VietNamNet Bridge – Analyzing the recent events in the East Sea, the public has had to raise a question: Whether Beijing is using Sun Tzu's "Art of War", to intentionally turn the impossibility into possibility, undisputed areas into disputed areas in order to claim natural resources in the continental shelf and the exclusive economic zone of its neighbors, through the formula "putting aside disputes to exploring the sea together".
Beijing is using the trick "turning nothing into something"
Sun Tzu, a great strategist in China's history, is famous for his art of war, which made fact and fiction and then caused distrust and drove a wedge between his opponents, through which to control them. This trick was used many times in China's history. Is this trick being used by Beijing right now?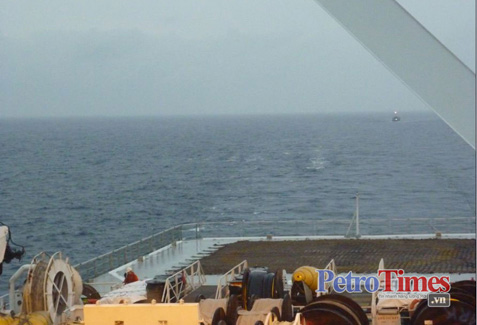 The place where the Viking II incident occurred on June 9.

The Binh Minh 02 incident is said to be serious because, (1) the case occurred deeply in Vietnam's continental shelf and exclusive economic zone, which are defined under the 1982 UN Convention on the Law of the Sea (UNCLS); (2) it was intentionally caused by an executive force of a country; (3) violating the public assets of an independent country.

However, in the eyes of Chinese Foreign Ministry's spokespeople, Chinese patrol ships' cutting of Vietnamese oil exploration ship Binh Minh 02 is normal and reasonable in the waters under China's jurisdiction. A Chinese Foreign Ministry's spokeswoman even asked Vietnam to "restrain to not create new incidents".

At the Shangri-La Dialogue on June 3-5 in Singapore, Chinese Defense Minister Liang Guangliet used the word "peace" up to 27 times in his speech and confirmed Chinese People's Liberation Army was not involved in the recent incident.

China is performing the trick "hand in a velvet glove". They have confirmed many times that they love peace and are willing to make negotiations, while in-the-sea situation is getting complicated. Many Vietnamese and Filipino fishing boats have been attacked. On June 9, Vietnam's Viking II oil exploration ship was harassed by Chinese fishing boats and fishery administration ships within Vietnam's continental shelf.

Earlier, a Chinese Foreign Ministry's spokesperson shifted the blame onto Vietnam: "China has undeniable sovereignty over Spratly  (Truong Sa)Islands and its territorial waters. China and Vietnam have many times reached important agreement in dealing with maritime issues and maintain stability in the South China Sea (East Sea). We hope that the Vietnamese side will have serious efforts to realize related agreements".

This is a vague statement that may make the public mislead that China and Vietnam have reached agreements and Vietnam is the one that did not implement agreements. It is clear that China and Vietnam are conducting negotiation on the principles to solve disputes in the East Sea. This shows Vietnam's good will in settling disputes based on international law without using forces or threatening to use forces.

Vietnam's point of view includes four points:

1) Vietnam has the right to have the continental shelf and exclusive economic zone from its shore, without disputes. This area is separate from the waters of the Hoang Sa (Paracel) and Truong Sa archipelagoes.

2) Hoang Sa and Truong Sa is under Vietnam's sovereignty.

3) The waters of islands in the two archipelagos are defined under the UNCLS, specifically Article 121.3. If islands in the two archipelagos have their continental shelf and exclusive economic zones, these areas are limited waters, under the principle "land rules the sea".

4) While seeking a long-term, permanent solution, the parties involving in the East Sea dispute need to restraint, do not expand their occupation and do not have acts that make the situation more complication, to perform cooperation in less-sensitive areas like environment protection, scientific research and fighting pirate under the spirit of the Declaration on the Conduct of Parties in the East Sea signed between the Association of Southeast Nations (ASEAN) and China in 2002 (DOC).

Thus, as the Vietnamese Foreign Ministry's spokeswoman said: "There is no common perception that China has the right to hinder Vietnam's activities in its continental shelf and its exclusive economic zone. China's acts are contrary to the common perception of the high-ranking leaders of the two countries".

The nine-dotted line and China's strange argument

What is the nature of China's opposite words and acts? The China Daily on June 8, 2011 did not hesitate to expose. According to this newspaper, the East Sea dispute is strategically meaningful for China for two reasons.

Firstly, China is a big country but it is not a super power in the sea. Though it has broad continental shelf and exclusive economic zone, the coasts of the mainland and islands are long but the contribution of the sea economy to China's GDP is still modest. With several disputed islands under its control, China has no way to link its sea to the ocean.

Secondly, China will be still in a disadvantaged position without a strong navy and sea interests. To be a superpower, China must transform from a mainland superpower into a sea superpower.

The East Sea dispute is the test for realizing that target. To monopolize the East Sea, the best way is turning the sea of others into China's sea, the undisputed sea into the disputed sea to claim sharing of natural resources and the right to control over the waters of other countries under the label "putting aside disputes to exploring the sea together".

In May 2009, China introduced the so-called the nine-dotted line or the U-shaped to the UN for the first time, but it said that this line is the historical line that has been widely recognized by the international community and the entire islands, rocks, sandbars, etc. and related waters, the sea bed and the earth under the sea bed within the line is under China's control. Perhaps only Chinese who always see themselves as the world's center can have such odd argument.

At the first conference on the Law of the Sea in 1958, the list of the world's historical waters and bays had no the so-called U-shaped line. A broken-off, unsystematically-drawn, no-coordinate line cannot be a sea borderline that is recognized by the international community.

The concept "related waters" is also China's product, which is not mentioned in the UNCLS. Immediately after China submitted the map with the U-shaped line to the UN, Vietnam, Malaysia and the Philippines raised their voices against this groundless line. The countries that do not involve in the East Sea disputes also criticized this absurd line.

On April 14 2011, China put forth a new argument: Spratly Islands has its own continental shelf and exclusive economic zone. This is the first time China made its claim under the name of the international law of the sea. But, it doesn't mean that China give up the U-shaped line. They continue to use both the U-shaped line and UNCLS when necessary.

China is using ambiguity to defend its actions that violate the international law. The U-shaped line, in nature, is the line that China set to expand the disputed area in the EastSea. The more the disputed area is expanded into the territory or the waters of other countries, the bigger advantage for China to make bargain. Countries involved in territorial disputes with China are very familiar with Beijing's trick to turn the nothing into something.

The trap "putting aside disputes to explore the sea together"

The second step of the trick to turn nothing into something, is making pretexts and put pressure on neighboring countries to confirm in fact the so-called "U-shaped line". This is the reason why China has stepped up harassment activities in the EastSea recently. From its unilateral ban of catching in the East Sea from May 15 to August 31, annually, to harassing Vietnam and the Philippines' ships from May to June 2011, or using submarines to place its coat of arms under the sea bed of a sandbar near Malaysia in early 2011, all of these acts have the same thing: they are on the U-shaped line.

Beijing expected that under the stick, related sides would have to accept its carrot: putting aside disputes to explore the sea together. Accepting this is accepting China's claim of the U-shaped line or China's monopoly in the East Sea.

The ripe condition is the time Beijing is capable to control the entire waters and territory within the so-called U-shaped line. While waiting for that ripe condition, it wants to have the same right with host countries to explore and exploit natural resources in the waters of these countries. The areas for "putting aside disputes to explore together" are the continental shelf and exclusive economic zones of other countries, where Beijing is unable or cannot control yet; nor the areas where it has illegally occupied, like Hoang Sa Archipelago or some areas in Truong Sa Archipelago.

It's time to bring the issue to the UN

The U-shaped line and "putting aside disputes to explore together" are the two elements that make China's big policy to monopolize the East Sea. Its recent acts shows that China's will to force neighbors to accept that formula.

China's test on May 26, 2011, aimed to Vietnam, the Philippines, ASEAN, the US and other countries that have interests in the EastSea. The response from Vietnam, the Philippines, Malaysia, Indonesia and the US is positive. They want China to respect its commitments and to have a clear roadmap to solve the disputes to avoid clashes.

However, their response is not enough to hinder Beijing's daring moves, like pursuing its construction on underground rocks near the Philippines and cutting cables of Vietnam's Viking II in Vietnam's continental shelf. It's time for Vietnam and the Philippines to bring the issue to the UN. ASEAN needs to make a suitable statement on the situation in the East Sea like the Declaration 1992, which paved the way for the DOC.

Countries that have an interest in the East Sea and ASEAN need to quickly explain and apply Article 121.3 of the UNCLS at the conference of the member countries of the UNCLS. None of the reasons that make the East Sea disputes more complicated is the vagueness of this article.

All countries that have their continental shelf and exclusive economic zone intruded need to resolutely perform their legitimate self-defense right against extremist acts, that threaten the life of their people and public assets; and thus, nothing will be still nothing and justice is not eroded.

Viet Long