VietNamNet Bridge - China's thirst for energy is the reason Chinese ships intensified exploration activities on the East Sea, culminating in their cutting Vietnamese cables on Vietnam's undisputed territory on May 26.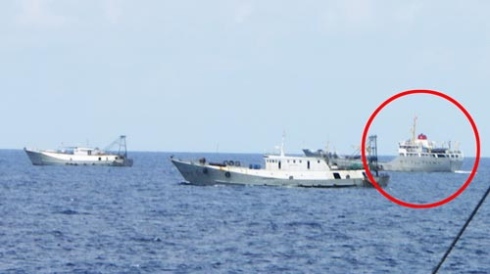 The Vietnamese Ministry of Foreign Affairs on May 29, held a press conference over the incident when three Chinese surveillance ships cut exploration cables belonging to Vietnamese state-owned Binh Minh 02 ship.
Ministry foreign spokeswoman Nguyen Phuong Nga asserted that "Vietnam demands Chinese side to immediately stop all actions violating Vietnam's sovereignty and jurisdiction and compensate for losses".
Premeditated acts
Do Van Hau, deputy general director of PetroVietnam, the state-owned company that manages Binh Minh 02, told the press conference that the cable-cutting acts are premeditated and prepared in advance.
"The area where the incident occurred lies entirely inside Vietnam's continental shelf. This is the first time Chinese surveillance ships entered Vietnam's continental shelf, regardless of warnings", Hau said.
Hau told journalists that when the Chinese ships were approaching Binh Minh 02, the latter gave out warnings but the Chinese ships did not reply.
After cutting the cable, the Chinese ships wrongly claimed that the Vietnamese ship was infringing on Chinese territorial waters and demanded it to leave the area.
The voice coming from a Chinese ship is that of a woman, he added.
China misleading public
When asked about the Chinese foreign ministry spokesperson's statement that Binh Minh 02 was violating Chinese sovereignty, Vietnam's foreign spokesperson Nga rejected such "arguments".
She said that the area in question lies inside the 200-nautical mile exclusive economic zone and continental shelf under the 1982 United Nations Convention on the Law of the Sea.
"This certainly is not a disputed area", she asserted.
She said China is trying to mislead the public into thinking that the area is a region under dispute.
"Vietnam always conforms to a general perception that Vietnam solves all disputes through peaceful means, not complicating the situation. However, there is no general perception saying that China has rights to interrupt Vietnam's activities on Vietnam's exclusive economic zone and continental shelf".
"This very action went against ideals of leaders of both countries".
"China calls on peaceful settlements but it is China that makes the situation complicated", she added.
"China leaders many times asserted that China's policy is to solve disputes through peaceful means…we hope that China as a big nation will present it roles, responsibilities of a big nation and follow correctly the spirits of leaders of China".
Vietnamese navy will do everything necessary
"Vietnam's national defense policy is peace and defense. Vietnamese navy will do everything necessary to protect sovereignty and territorial integrity, serving economic development of the nation", Nga said.
Asked about China's nine-dashed line claim in the East Sea and a series of recent disputes with Vietnam and the Philippines, Deputy Chairman of Vietnam's National Border Committee Nguyen Duy Chien was quoted by VNA as saying:
"China's nine-dotted line or "U-shaped line" in the East Sea is completely groundless and runs counter to the 1982 UN Convention on the Law of the Sea of which China is a member. The claim has violated the exclusive economic zones and continental shelves of a number of countries in the region, including Vietnam, and prompted protests from these countries. China's attempt to materialize this claim is in fact increasing tension in the region."
China's plot to exploit oil in East Sea
In 2011, China's state-owned China National Offshore Oil Corporation (CNOOC) officially publicized on its website an oil exploration roadmap under which it will exploit 19 oil blocks on an area covering over 52,000 square kilometers on the East Sea.
To carry out its ambition to be master of natural resources on the East Sea, on May 23, 2011, CNOOC received the giant CNOOC 981 drilling rig.
The 3,000-meter-deep water rig constructed by China CSSC Holdings' Shanghai Waigaoqiao Shipbuilding, is expected to start drilling works in the east sea "from July".
The 31,000-ton rig has a deck the size of a football field.
Total investment of the massive equipment is Rmb6 billion (US$923 million).
In fact, the Chinese plan to explore oil in the East Sea has been laid out for a long time. 2011 is the year China will step up efforts in oil and natural gas mining, according to the country's announcement.
The exploration continued despite protests from countries in the region.
Second Persian Gulf?
China once dubbed the East Sea as a "second Persian Gulf". It is reported that the East Sea is estimated to contain more than 50 billion tons of crude oil and more than 20 trillion cubic meters of natural gas.
The importance of deep-water resources is also acknowledged in the government's 12th Five-Year Plan (2011-15), which called for "enhancing the ability of marine development and utilizing and actively developing offshore oil and gas", reported Global Times.
"The exploration of offshore oil and natural gas is the key to solving the crude oil predicament China is facing," Zhang Dawei, deputy director of the Oil and Gas Resources Strategy Research Center under the Ministry of Land and Resources, told the Global Times.
Statistics provided by the General Administration of Customs showed that China imported 239 million tons of oil last year, up 17.5 percent compared with the year before.
In the meantime, China's dependence on imported oil increased from 52 percent in 2009 to 55 percent last year, exceeding the globally recognized energy security alert level of 50 percent, according to Global Times.
Vietnam can seek UN intervention
According to lawyer Tran Cong Truc, former head of the government border committee, the cable-severing act is "very dangerous" and that under international practice, Vietnam can submit a diplomatic note to the United Nations about the incident.
The case may be brought in front of an arbitrator from the UN.
"Vietnam wants to solve disputes via peaceful methods but this does not mean that Vietnam will not have any action to protect its sovereignty against territory-violating acts", Truc told Tuoi Tre.
China ships want to sink Vietnam fishing boats?
On 29 May night, Nguyen Thanh Son as usual turned on the Icom walkie-talkie to connect with fishermen at sea.
Below is part of a conversation in which one fisherman said that Chinese ships wanted to pump water into Vietnamese fishing boats to sink them.
"It is Le speaking – Vo Duc Le, ship QNg 8598
Nam: What is the fishing situation?
Tens of Chinese ships have entered the Hoang Sa sea (Paracel). Some confrontations. Did not dare to fish during the day. Only did it at night. We have to leave at 3am because they [Chinese ships] did lots of patrolling. The other day, we had a confrontation with a [Chinese] patrolling boat which chased us. They even wanted to pump water into our ships to sink them. We fled in time.
Nam: Are you scared?
We have had many similar confrontations so we see this as normal".
US$100,000 to repair cut cables
Do Ba Cuong, director of PVEP POC, said on May 29 afternoon that despite the incident, the Binh Minh 02 ship is carrying out normal exploration activities and that PVEP POC will soon intensify security forces to ensure safety for Vietnamese oil projects.
Meanwhile, Nguyen Hung Dung, general director of PTSC, said that total damages resulted from Chinese illegal acts amounted to nearly US$100,000 (including fees to repair the cables, purchasing and time to do repair work).
It took 12 hours to repair the cables, another official said.
Dung said that Chinese ships had disturbed and interrupted Vietnamese oil explorations before but the May 26 incident is the first time that they used specialized equipment to destroy properties.
Source: Tuoi Tre