VietNamNet Bridge – The Vietnam Mapping and Measurement Bureau will finalize its project to put Vietnamese maps to the Internet later this year.
Vietnam asks China to remove nine-dotted line from Map World
Google corrects faults on Vietnam online map
National Geographic Society explains 'Hoang Sa' omission
Vietnamese citizens protest National Geographic mapping error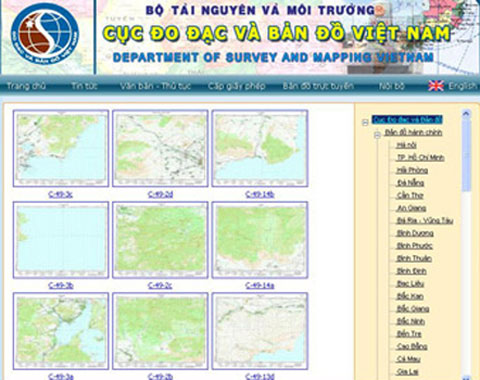 The bureau chief, Nguyen Tuan Hung said that his agency completed the first stage of the project. A website of Vietnamese maps is under construction.
The website will provide online maps of Vietnam at difference ratios. The site will be launched later this year.
According to Hung, online maps of Vietnam will show in details the borders between Vietnam – China, Vietnam – Laos, Vietnam – Cambodia and two archipelagos Hoang Sa (Parcel) and Truong Sa (Spratly) as Vietnam's territory.
Hung explained that current online maps are all "Vietnam's online maps", but it is not true. Only online maps that are provided by competent agencies of Vietnam are legal maps.
For wrong information about Vietnam's sovereignty on online maps supplied by Google Map and National Geographic, the Vietnam Mapping and Measurement Bureau has added explanations and instructions for users of online maps of Google and National Geographic.
Recently, the bureau sent diplomatic notes to the Chinese Embassy in Vietnam and the Chinese State Bureau of Surveying and Mapping, asking them to remove the nine-dotted line from China's online mapping service named Map World.
The Chinese State Bureau of Surveying and Mapping previously launched the Map World service, which maintained the nine-dotted line in the East Sea, seriously infringes upon Vietnamese sovereignty over Hoang Sa and Truong Sa Archipelagos, sovereign rights and national jurisdiction over Vietnam's continental shelf and exclusive economic zones within 200 nautical miles.
PV