VietNamNet Bridge – Chief auditor of the Audit of Vietnam Agency, Vuong Dinh Hue, said that his agency planned to audit the Vietnam Shipbuilding Industry Group (Vinashin) several times but the plans were rejected to avoid overlap with the Government Inspectorate's investigation.
 
Troubled shipbuilding group to be restructured for survival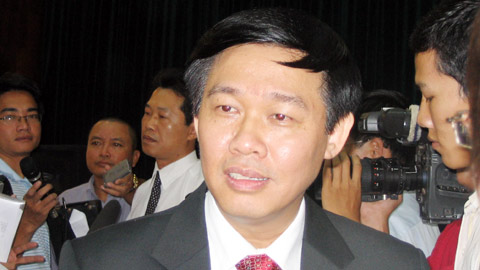 Chief government auditor Vuong Dinh Hue.
Chief National Assembly deputy of Hung Yen province, Vu Quang Hai, said that after the Party Central Inspection Committee made public the wrongdoings at Vinashin, he still questioned the government's chief auditor and the chief inspector about the case.
"The Politburo said that during 2006-2010, Vinashin was inspected and audited 11 times. What is in the end the responsibility of these inspectors and auditors?" Hai questioned.
Hai said he had received the answer from chief auditor Vuong Dinh Hue one month before the NA autumn session but he had not got the chief inspector's reply yet.
Chief auditor Vuong Dinh Hue explained that there are many state-owned corporations and groups in Vietnam so the Audit of Vietnam Agency can audit a corporation or group each 4-5 years.
He also said that the agency had planed to audit Vinashin several times, even before it became a state-owned group. Since 2006, this agency scheduled to audit this group at least twice.
Specifically, the agency planed to audit Vinashin's financial report in 2008 but the plan was delayed to 2010 because the Government Inspectorate planed to investigate the group in 2009. However, the auditing plan was delayed again because it was not supported by the Government Inspectorate, the government and the National Assembly.
Deputy Tran Van Hang from Nghe An wondered why only Ministry of Planning and Investment's report was sent to the Party Central Inspection Committee, not the reports of other ministries and agencies.
Hue explained that since 2006, Vinashin had hired an independent auditing firm (KPMG). Not knowing this, the public may misunderstand that it was the Audit of Vietnam who didn't give any warning about Vinashin's situation.
It is said that Vinashin has been inspected and audited 13-14 times since 2005 but problems at this group were neglected because relevant officials said that it was necessary to lessen pressure on Vinashin to help it deal with financial problems.
Chief government inspector Tran Van Truyen said that the competencies of both the Audit of Vietnam and the Government Inspector in terms of auditing and inspecting state-owned agencies needs to be clarified. Because the two agencies want to avoid overlapping, many tasks are delayed.
The Vinashin case was quoted by many NA deputies as the evidence for problems in economic management at state-owned agencies.
Deputy Le Quoc Dung, Vice Chair of the National Assembly's Economics Committee, said: "Vinashin has gone bankrupt but nobody recognises this fact".
Deputies worried that it is unclear who is responsible for the failure of Vinashin.
Deputy Nguyen Ba Thuyen said that all officials associated with the Vinashin scandal must step down. "This may be a chance to show the culture of resignation," he said.
Deputy Ha Minh Hue added: "The responsibility of individuals in this case must be clarified. In other countries, they must step down but in Vietnam, officials don't accept their responsibility even when the situation is very clear."
Deputy Tran Van Hang from Nghe An province said that the largest flood in Ha Tinh and Quang Binh provinces destroyed 20 communes, causing damages worth thousands of billion dong but the this is still less than the 86 trillion dong of losses caused by Vinashin.
Hang questioned: "It is the most important that what will we do after Vinashin case? What group will be next?"
Deputies also asked why with so many inspections conducted at Vinashin its problems remained undisclosed for a very long time.
According to the government's report, Vinashin's losses and debts are estimated at 86 trillion dong but banks claimed debts of up to 120 trillion dong. "I would like to ask the government whether its report is accurate or not?" said deputy Le Quang Binh.
Le Nhung – Lan Anh – Thuy Chung