VietNamNet Bridge – Online forums for students have been stirred up with information about a young man born in the 1980s who is runing for the upcoming National Assembly (NA) election.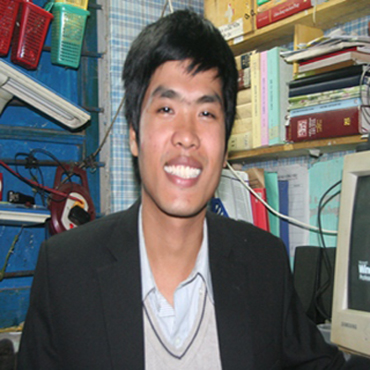 That is Nguyen Tien Nghi, a fourth-year student of Hue University's School for Science's Political Theory.
Nghi was born in Yen Lac district, the northern province of Vinh Phuc. Before studying at the Hue University of Sciences, he studied at the Culture College of Vinh Phuc province.
Nghi is an outstanding student who has enthusiastically participated in social movements and research projects at university.
Nghi is among 11 candidates for the 13th NA election (May 22) of the central province of Thua Thien – Hue.
"Who is the student running for the NA?" is the name of a hot topic on an online forum for youth. The topic quickly received many comments.
"I've heard that a student has ran for the NA election. Do you have any information about this brave man?" a member questioned.
Other members quickly posted the answer and wrote comments showing their support and admiration to this 25-year-old man.
"I've heard that this man has actively participated in many social activities and he had many achievements in studies. One vote for him. The National Assembly should welcome young, enthusiastic, creative, open-minded people," a member wrote.
A wave of support to this student has spread in other online forums of students, especially forums of Hue city's students.
"This man is very brave," one commented on the forum of students of the Hue University of Economics.
"Who knows what he can do but let's wait and see. Anyways, I wish you success!" another member wrote.
Readers of online newspapers also show their support to this man.
"I'm very surprised. You are praiseworthy. You are not an official nor a Party member. You don't have academic title or diploma but you are among the best 11 candidates. It is not easy. Let's try! We need such students like you!" a VietNamNet reader wrote.
However, some expressed their worries.
"You are brave but you can't be an NA deputy now because an NA deputy must be at least 32 years old. The NA needs to have new blood but not members that are too young. NA deputies must have both theoretical knowledge and experience and broad knowledge of various fields to have deep and quality opinions. A student cannot meet these criterion. Anyway, you are praised for your courage," a VietNamNet reader commented.
Though the election hasn't happened yet, Nghi's self nomination for the election and entering the preliminary list of candidates of Hue city has had a good effect among the youth.
The youth has paid more attention to the NA election after the case of Nghi.
"I think that this event will open a new period for the youth. They will be more interested in the country's politics and to live according to their ideals," one wrote on an online forum named Az24.
Quynh Anh