VietNamNet Bridge - Deputy Prime Minister Nguyen Thien Nhan had separate meetings with a Russian Deputy PM, the Duke of York and the Swiss Minister of Economics on the sidelines of the World Economic Forum meeting in Davos.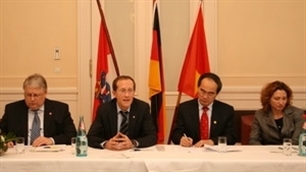 In his meeting with Russian Deputy Prime Minister Igor Ivanovich, Deputy PM Nhan said he hopes that the two countries will continue to implement bilateral agreements and conclude negotiations for the signing of an agreement on credit provision for Vietnam's first nuclear power plant project.
Both countries will hold further negotiations to reach a Vietnam-Russia free trade agreement, paving the way for raising two-way trade to US$3 billion by 2012, he said.
The will also cooperate in the other areas of education and training, culture, and science and technology, and prepare for establishing a Vietnamese-Russian university of technology.
In 2010, cultural exchange programmes, Russian cultural days in Vietnam and Moscow days in Hanoi, were held to promote ties. The "Vietnamese cultural days in Russia" programme is scheduled to take place in 2011.
When meeting with Prince Andrew, the Duke of York, Deputy PM Nhan said that Vietnam welcomed and highly valued the Prince's role and contributions to developing links between the two countries in recent years.
Mr. Nhan urged the Prince in his capacity as a senior government representative on trade and investment to create the best possible conditions for Vietnam Airlines to begin a direct route to Heathrow international airport in London.
Prince Andrew expressed his high wish to return to Vietnam soon and, saying that both countries would soon sign the Vietnam-UK action plan for 2011, bringing the two countries' strategic partnership to life.
During his meeting with Switzerland's Economic Minister Johann Schneider Ammann, Deputy PM Nhan emphasised the potential and opportunity for bilateral cooperation in economics, trade and investment.
He asked the Minister to create better conditions for Swiss firms to invest in Vietnam.
Mr. Nhan confirmed that Vietnam has done its best to create favourable conditions for Swiss firms to invest long term and do business in Vietnam.
He said he hopes that the Swiss government will continue to maintain its official development assistance to Vietnam in the coming years.
Minister Ammann said he was pleased with relations between the two countries, especially the exchange visits by leading officials, adding that they have been an important driving force for both countries to tighten ties.
Source: VOV