VietNamNet Bridge – The new UK Ambassador to Vietnam Antony Stokes told the local press on November 9 that he set three priorities for his term in Vietnam to promote the strategic partnership between the two countries.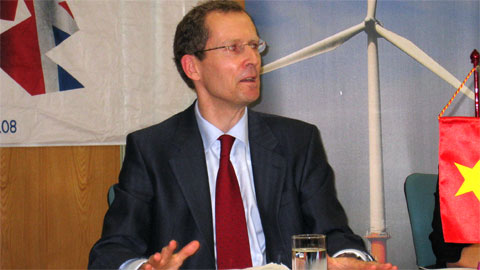 One of the priorities is bringing the two-way trade revenues to US$3 billion, the Ambassador said in the first meeting with Vietnamese journalists. The figure is around $2 billion at present.
He said there are at least two grounds for turning this goal into reality. Firstly, the HCM City-London air route will be launched in late 2011. Secondly, the European Union and Vietnam are going to negotiate the Free Trade Agreement (FTA).
The Ambassador said that it is difficult to ensure that the goals will be realized but he was very optimistic.
The HCM City-London air route is expected to promote trade, investment, education and tourism cooperation between the two countries. Stokes said that the negotiation is underway to fix suitable landing sites for Vietnam Airlines' aircrafts at the UK's airports and to complete necessary formalities.
The UK-Vietnam Joint Committee for Economics-Trade recently met in London. The two sides agreed to improve the accessibility to the Vietnamese market for UK companies and Vietnam committed to better implement its WTO commitments.
Apart from trade, the Ambassador expected that the UK will become Vietnam's leading education partner. Around 2000 Vietnamese students go to the UK annually. The UK hopes to increase the number to 3000 a year. The UK will try to early complete its project to build an international standard university in Da Nang.
Development cooperation is the third priority, Stokes said. Accordingly, the UK will continue granting aid to Vietnam to assist the country in its implemention of the Millennium Goals, to promote trade growth, to improve state governance and to cope with climate chagne. The UK also wants to promote dialogue with Vietnam on economic reforms and human rights.
Vietnam and the UK have upgraded their ties to strategic partnership, with seven key cooperation fields: politics-diplomacy, global and regional issues, trade-investment, development cooperation, economics-society, education-training, security-defence and people's exchange.
XL