Former Deputy PM receives Japanese honour
Ambassador Yasuaki Tanizaki presented Japan's "Sunrise" Order, first class, to former Deputy Prime Minister cum Foreign Minister Pham Gia Khiem at a ceremony in Hanoi on June 11.
Foreign Minister Pham Binh Minh, former Deputy PM Vu Khoan, and former Chairman of the National Assembly External Affairs Committee Vu Mao attended the event, along with representatives from the Japan-Vietnam Friendship Parliamentary Alliance.
Tanizaki praised Khiem's contributions to laying a sound foundation for the comprehensive strategic partnership between Vietnam and Japan, and for developing it during his term as Deputy Prime Minister and Foreign Minister.
Khiem thanked the Japanese State, government and people for honouring him with the noble award and said he hopes the Vietnam-Japan strategic partnership will continue to develop comprehensively, deeply and practically in the future, especially when the two countries celebrate their Friendship Year in 2013.
Localities of Vietnam, Laos enjoy deep ties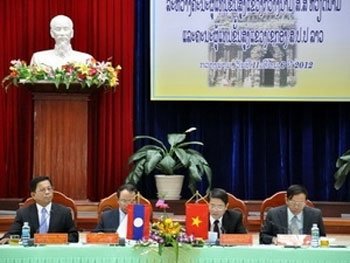 The annual high-level meeting between Quang Nam and Sekong Province. (Photo: VNA)
The central province of Quang Nam and Lao's province of Sekong held an annual high-level meeting on June 11 in Tam Ky City, to review the implementation of the agreements reached in the previous session and build up a cooperative programme for the future.
The meeting brought together leaders of the two provinces, including Nguyen Duc Hai, Quang Nam Provincial Party Committee Secretary and Khampheui Boutdavieng, Party Committee Secretary and Mayor of Sekong Province.
At the meeting, representatives from Quang Nam said the province has helped Sekong build several infrastructure works and train human resources. In the future, it will continue supporting Sekong province in infrastructure construction and socio-economic development as well as receiving more Sekong's students to train in Quang Nam's colleges, contributing to strengthening the traditional relations between the two provinces.
Khampheui Boutdavieng expressed his delight at the effective cooperation between the two provinces over years, which has gained practical achievements.
He said he hopes that in the future, Quang Nam will continue to help Sekong in infrastructure building, socio-economic development, hunger elemination, poverty reduction and human resources training.
The two sides should deepen multifaceted cooperation, particularly in culture and sports, the mayor said. He added that both provinces should work together to complete the road linking Sekong's downtown and Quang Nam, as well as the joint border check-point and infrastructure of the border gate between the two localities.
On this occasion, the Sekong delegation visited several economic establishments in Quang Nam. A memorandum of understanding on cooperation in the future was also signed.
Vietnam, Laos provinces look to deepen ties
Lao Prime Minister Thongsin Thammavong received a senior-level delegation from the Central Highlands province of Lam Dong during their visit to Laos from June 6-11.
Speaking at a reception, head of the delegation, Chairman of Lam Dong People's Committee, Nguyen Xuan Tien, who is also a member of the Party's Central Committee, gave a briefing on the outcome of a meeting between the province and Champasak province in Laos.
Tien said that the programme of cooperation between both provinces from 2008-2012 has recorded a number of significant achievements, particularly in education and agriculture.
Prime Minister Thammavong was particularly pleased at the level of cooperation shown between the two provinces, which is in line with Laos's human resources and agriculture development strategy.
He said that he hopes both provinces will continue to step up cooperation to boost each other's strengths, as part of the activities to celebrate the 35 years since the Friendship and Cooperation Treaty was signed and 50 years of diplomatic ties between the two countries.
Under the cooperation programme, Lam Dong province has opened a school for gifted student at Champasak, and helped Champasak's fish farmers in breeding sturgeon and salmon, as well as helped the province to grow vegetables and flowers using advanced technologies.
During 2012-2015, both provinces will continue to work together in education and agriculture development.
Lam Dong will also grant several scholarships for students to attend Champasak School and offer training courses for farmers on growing vegetables and flowers using advanced technologies.
During their visit, the Vietnamese delegation also met with Deputy Prime Minister Somsavad Lengsavath, and Soukan Mahalath, Mayor of Vientiane.
VNN/VOV/VNA