VietNamNet Bridge – The number of claims, most of them are related to land, has increased by 50 percent after the land withdraw case in Tien Lang, Hai Phong city, said the Governmental Inspectorate.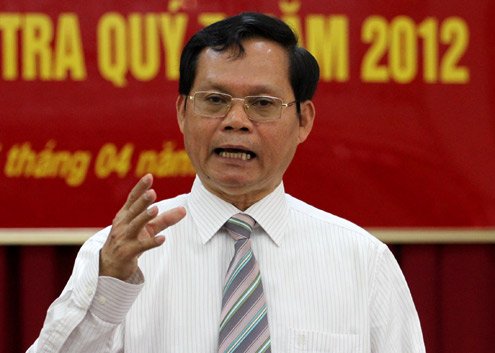 Chief government inspector Huynh Phong Tranh.
Chief inspector Mr. Huynh Phong Tranh, told correspondents on April 5--that in the Tien Lang case, local authorities made mistakes in managing, using and withdrawing land, resulting in a criminal case.
However, Mr. Tranh said that the Government Inspectorate's point of view is cases are different and inspectors cannot review all other cases.
The chief government inspector said that after the Tien Lang case, the number of claims related to land conflicts and the number of group claims have both increased.
He said that land-related claims have been a problem for a long time. "Some local governments have avoided dealing with land-related cases. In some cases, local authorities made wrong decisions so people do not agree with them," he added.
The official said that land management in Vietnam was not strict enough and it affected people. The number of group claims is high owing to poor awareness of law of some people. According to the Government Inspectorate's statistics, 40-50 percent of claims are wrong, 25-35 percent are both wrong and right and 20-25 percent are correct.
Mr. Tranh said that many complainants were induced to lodge group claims.
He said that the Government Inspectorate would check the land revocation process to protect the interests of those whose land was withdrawn.
"The State must take care of the people's interest but the people should not lodge unfounded claims and when they are induced by others," Mr. Tranh said.
In the first quarter of 2012, the Government Inspectorate completed inspection at 11 state-owned groups, ministries and provinces. The agency detected economic violations worth VND30.72 trillion and proposed the government to collect over VND3.7 trillion to the budget.
At the same time, inspectors of ministries and provinces finalized 395 inspection cases, detecting violations related to VND94 billion, 14.9 hectares of land and proposed relevant agencies to collect over VND54 billion to the budget.
Nam Nguyen