VietNamNet Bridge – Viet Nam always attached importance to its relations with the United States as a partner of strategic importance and praised the increased co-operation between the US and regional countries for peace, stability and development, President Truong Tan Sang told US Secretary of State Hillary Clinton in Hawaii on Thursday.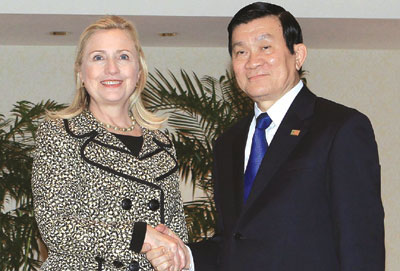 President Truong Tan Sang meets US Secretary of State Hillary Clinton during the APEC Summit in Hawaii. (Photo: VNS)
The Vietnamese leader is in Hawaii to attend the 19th Asia-Pacific Economic Cooperation (APEC) summit after concluding a State visit to South Korea.
He said he was delighted at the strong expansion of relations between the two countries, both bilateral and multilateral, which had created an important foundation for boosting Viet Nam-US ties to a new level in the interest of both peoples.
He said he appreciated US Secretary of State Clinton's contributions to the development of bilateral ties and asked her to convey his invitation to President Barak Obama to pay a visit to Viet Nam.
Welcoming the Vietnamese President to the 19th APEC summit, Clinton said President Barak Obama thanked Sang for Viet Nam's support, co-operation and positive contributions during the APEC 2011.
She affirmed that the US continued to wish for further multi-faceted co-operation with Viet Nam aimed at expanding the scale of their ties towards a strategic partnership.
Clinton went on to say that the US would co-operate with all relevant countries to contribute to maritime freedom and safety, and support the peaceful settlement of disputes over sovereignty in the East Sea on the basis of respecting international laws including the 1982 UN Convention on the Law of the Sea and the Declaration on the Conduct of Parties in the East Sea (DOC). It would also protest against the use of force, support nations' rights to tap into the natural resources in their exclusive zones, and praise efforts towards the formation of the Code of Conduct of Parties in the East Sea (COC).
While speaking with Hawaii Governor Neil Abercrombie, Sang spoke of his wish for Viet Nam and Hawaii to take advantage of their strengths to raise trade value and bolster co-operation in tourism, education and training.
In a meeting with business leaders, Sang said he welcomed their efforts to contribute to speeding up economic, commercial and investment ties between the two countries and affirmed that Viet Nam would make more efforts to further improve the investment and business environment to enable foreign enterprises, including those from the US, to do business in Viet Nam.
He proposed American enterprises to urge their government to give Viet Nam early recognition as a market economy and offer Viet Nam its Generalised System of Preferences (GSP) treatment.
American businessmen spoke highly of Viet Nam's development potential as well as opportunities for co-operation in economic development, trade and investment. They reiterated their commitment to long-term co-operation and business expansion to various areas in Viet Nam.
They also expressed their wish for better infrastructure and human resources in Viet Nam, and emphasised that development had to go hand in hand with environmental protection.
President Sang also met with the community of overseas Vietnamese in Hawaii and Vietnamese students who are studying there.
VietNamNet/Viet Nam News