VietNamNet Bridge - Vietnam should produce solid policies in order to attract foreign investment and create domestic added value, said Dang Thanh Tam, deputy of the 13th National Assembly (NA), who is also President of the Executive Board of Sai Gon Invest Group (SGI).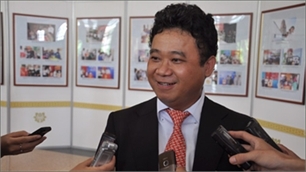 Tam - one of 38 entrepreneurs, who was elected to the 13th NA, gave an exclusive interview to a VOV reporter to discuss policies to help stabilize the national economy and develop in the medium to long-term.
Being one of the entrepreneurs who were elected to the 13th NA, can you give your assessments of the current national economy?
One of the important roles of NA, which is the deputies' task, is how to introduce people's aspirations and opinions into the NA agenda. Especially, when Vietnam's economy faces a lot of challenges such as inflation, high interest rates, trade deficit and a decline in foreign investment.
The 13th NA will elect the new government and offer major breakthroughs to stabilize the country. This immediate task will be focused on developing the economy in the remaining months of the year, controlling inflation, lowering interest rates, and maintaining the economic growth rate.
At present, businesses are waiting for positive signs from the Government, especially in terms of interest rates. It is a fact that many businesses can operate effectively while lacking capital sources. Other enterprises have enough capital but are not efficiently managed.
In my opinion, it is necessary to focus on exporting farm produce, seafood, and mineral ores to increase the value of foreign exchange. We also need to generate new jobs as well as balancing foreign currency.
To attract foreign investment, it is necessary to have mechanisms to create the support industry and generate added value.
Vietnam's economy depends on two issues: attracting foreign investment and creating added value.
I believe that the Government will focus on strengthening exports. The Party's resolution has stated that it is important for Vietnam to create global added value, get involved in the global added value chain and generate domestic added value.
We aim to raise the quality of business operations with a view to increasing added value of each product and ensuring balance between imports and exports.
It is not necessary to strictly tighten the monetary policy, especially in prioritized sectors such as seafood and farm produce which have a strong impact on the majority of the population.
Moreover, investment should be poured into the right places in order to help disadvantaged people improve their living conditions.
Could you give examples about investment flowing into the wrong places?
It is impossible to impose prohibitive policies as Vietnam has joined the World Trade Organization (WTO). The State Bank of Vietnam (SBV)'s credit limitation in the real estate and securities sectors is unfair for businesses. The core matter is how to adjust the market by using technical tools.
When the country has integrated into the global economy, it should focus on inspection and control. The SBV should intensify inspection work to ensure that capital is invested in the right places. Similarly, National Assembly (NA) deputies should perform their duty of inspection better so that projects are implemented more effectively.
At present, NA deputies are allowed to inspect projects and sectors and raise their voice if they detect problem.
What is your assessment of the Government's programme on tax reduction and exemption?
This is just a temporary solution. In fact, we need specific policies to boost export activity and increase added values in the domestic market. This is more important than the tax reduction and exemption programme.
Every business has the obligation to pay tax. However, businesses need input policies rather than output ones. They need incentive policies to encourage them to invest in certain fields.
For example, Panasonic has invested and contributed 5 percent of GDP to Malaysia as the country has offered many incentives for its support industry.
In my opinion, the Government is currently better aware of the importance of issuing incentive policies to boost national development.
Source: VOV