VietNamNet Bridge - US Secretary of State Hillary Clinton told India on July 21 "it's time to lead", urging New Delhi to take a stronger role across Asia where China is flexing its muscles, and to bolster support for struggling neighbours Afghanistan and Pakistan.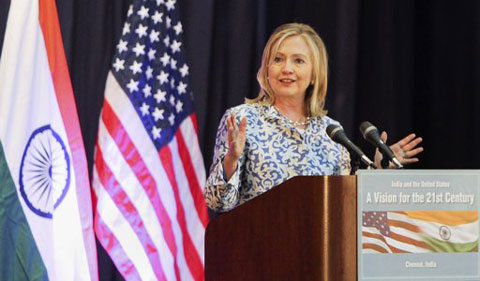 Clinton, delivering a speech in Chennai, said New Delhi should exercise political influence to match its economic clout -- both of which Washington sees as potential counterweights to Beijing.
"This is not a time when any of us can afford to look inward at the expense of looking outward. This is a time to seize the opportunities of the 21st century and it is a time to lead."
U.S. officials billed Clinton's speech as a major address to outline Washington's vision for the U.S.-India collaboration in the coming century, a partnership it hopes will both stabilise Asia and hedge China's growing dominance.
"We are betting that India's pluralistic democracy will produce results for your citizens and inspire others to follow a similar path of openness and tolerance," she said.
"We think that America and India share a fundamentally similar vision for the future of this region."
U.S. President Barack Obama, on a visit to India last November, publicly backed New Delhi's bid for a permanent seat on the U.N. Security Council and U.S. officials say they now want the world's largest democracy to become a more visible partner in facing global challenges.
Clinton listed areas where India and the United States cooperate, including clean-energy technologies, cyber-security and addressing concerns over Iran's nuclear programme.
She said India could do more to build a leadership role in the broader Asia-Pacific region, pushing New Delhi to translate its "Look East" policy into a stronger stance on everything from maritime security to human rights -- areas where Washington has at times had frictions with China.
"We encourage you not just to look east, but continue to engage and act east as well," she said.
U.S. officials are careful not to describe deepening U.S. ties with India as focused on countering China, and Clinton emphasized that New Delhi and Washington could still have "a strong, constructive" relationship with Beijing.
But, she added, "this will not always be easy", and said India, China and the United States would have to coordinate their efforts as they all seek to build Asia's future.
Clinton's speech came one day before she travels to a meeting of Asia's biggest security forum in Bali, where tensions over sea rights could set her at odds with Beijing.
Source: bdnews24, Reuters