VietNamNet Bridge - Officials from China and the Association of Southeast Asian Nations (ASEAN) have agreed a set of guidelines regarding cooperation in disputed areas of the East Sea.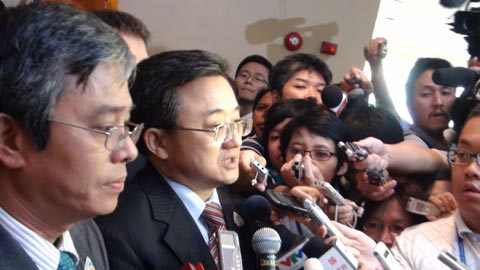 Chief of the Vietnamese delegation to SOM Pham Quang Vinh (first from the left)
and his Chinese counterpart Liu Zhenmin.
The agreement was reached after senior officials from both sides met during annual ASEAN meetings in the Indonesian island of Bali, ahead of a gathering of their ministers on July 21.
"ASEAN and Chinese officials had an effective, constructive and profound meeting on the implementation of the DOC (Declaration on the Conduct of Parties in the East Sea) and the agreement on the draft guideline of DOC implementation," said head of the Vietnamese delegation Pham Quang Vinh after the meeting this morning, July 20.
"We worked together for the common goals of promoting peace, stability, mutual-trust and cooperation for development in the region," Vinh emphasized.
Through dialogues, the two sides reached an agreement at ministerial level on the draft guideline for the implementation of the DOC.
"This is a significant and good start for us to work together to continue dialogue and cooperation with a view to further promote this stability and confidence in the region," he told reporters.
China's Assistant Minister of Foreign Affairs Liu Zhenmin said the officials would submit what they had approved to their ministers for final endorsement.
"This is an important milestone document on the cooperation among China and ASEAN countries," Liu told reporters. "And we have a bright future and we are looking forward to future cooperation."
While the guidelines were hailed publicly as a "significant step" in resolving territorial disputes in the resource-rich area, diplomats conceded that they have been watered down and contain more generalities than specifics.
The guidelines, which have been under negotiation for nearly 10 years, spell out ways to implement a declaration of East Sea claimants on the need for a code of conduct to govern activities in the area.
The ultimate objective is for China and ASEAN to agree on a legally-binding Regional Code of Conduct in the East Sea but diplomats have said this remains far off.
Thuy Chung (from Bali)