VietNamNet Bridge - Territorial disputes and flare-ups in the South China Sea (East Sea) were expected to take center stage at Asia's largest security forum this week.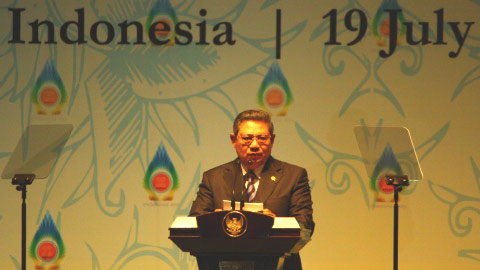 Indonesian President Susilo Bambang Yudhoyono.
In his opening speech at the 44th ASEAN Ministerial Meeting (AMM44) on July 19 in Bali, Indonesia, Indonesian President Susilo Bambang Yudhoyono said: "The next 5 days will be full of hard work in our common efforts to shape the destiny of our region."
"Our meeting here takes place just 10 weeks after the 18th ASEAN summit in Jakarta last May. We did not waste time."
"Since that Jakarta Summit, there have been plenty of discussions and consultations among ASEAN Ministers and officials, and also with our dialogue partners, to prepare for this meeting in Bali. Before that, in the first three months after Indonesia assumed ASEAN chairmanship, ASEAN Foreign Ministers met four times.
This is a clear testament of the fact that ASEAN, as intended by the ASEAN Charter, is picking up speed. We are no longer just walking at a leisurely pace. We are beginning to run, and running faster. And run faster we should, because the region and the world is running faster. We have much work to do, to strengthen ASEAN's momentum."
He pointed out global challenges: Europe is still grappling with economic disruptions, and is likely to be in that situation in the near future. In the US, the budget debate over debt ceiling remains, and, if left unresolved in early August, it can negatively affect the global economy. The price of oil remains high and volatile - hovering just below USD $ 100 per barrel - while the Arab spring continues to unsettle the Middle-East. Japan is still struggling with its full recovery, affecting the global supply chain. The 6-party talks over the Korean nuclear issue have not been resumed.
But he emphasized, the "great expectation that ASEAN will be able to consolidate our position and be a driver of peace, development and international cooperation in Southeast Asia and beyond."
"This is an expectation that I know we are able to meet," he said confidently.
"To begin with, we must push harder in the promotion of peace, cooperation and stability for our region," he stressed.
He also analyzed security challenges that ASEAN is facing, including the border conflict between Thailand and Cambodia, the East Sea disputes, the establishment of a nuclear weapons-free Southeast Asia, human trafficking, etc.
Related to the East Sea disputes, President Susilo Bambang Yudhoyono noted ahead of closed-door talks, that it's been nine years since the 10-member Association of Southeast Asian Nations and China agreed to negotiate a code of conduct in the potentially resource-rich waterway.
"Things do not necessarily have to be this slow," he said, adding "some progress" was long-overdue.
"I ask the Foreign Ministers' meetings to step up its efforts, to complete that last mile on this important confidence-building document. We need to send a strong signal to the world that the future of the South China Sea is a predictable, manageable and optimistic one; and we need to finalize that long overdue guidelines, because we need to get moving to the next phase, which is identifying elements of the Code of Conduct," he said.
"The more we are able to do this, the better we can manage the situation in the South China Sea. I am sure that soon we will be able to commence discussion on a regional code of conduct in the South China Sea."
Raising the role of partners in turning ASEAN into the driver for an "East Asia-wide regionalism", President Yudhoyono believed "through such cooperation we could increase better coordination among our military personnel in joint activities other than war."
For the first time, and in contrast to just 4 decades ago, ASEAN is facing a reality where the frequency and depth of contacts between our citizens - through cable television, email, Twitter, Facebook - far exceed the formal contacts between Government officials, he said.
"There is no Government in the world that has all the answers to this new trend. ASEAN too must get into the act. We must be creative and open-minded in harnessing the power of technology to promote people-to-people contact," the host President said.
Southeast Asian ministers will be joined later in the week by officials from Asia-Pacific, Europe and the United States for the much more important ASEAN Regional Forum.
U.S. Secretary of State Hillary Rodham Clinton, now in India, will be among those attending. So will China's foreign minister, Yang Jiechi, and Pak Ui-Chun of North Korea.
Hot topics on the table include: Pyongyang's nuclear crisis, the slow pace of democratic reforms in military-dominated Myanmar and its bid to take over the ASEAN chairmanship in 2014 — something that is looking increasingly likely. They also are interested in international efforts to help end a border dispute between Cambodia and Thailand, with the U.N. international court in The Hague on Monday ordering both sides to withdraw troops around a 1,000-year-old temple along the frontier. Overshadowing talks, however, will be conflicting claims in the East Sea.
China claims the entire area, a large swath extending far from its southern coast and overlapping with the 230-mile (370-kilometer) exclusive economic zones of the Philippines and Vietnam and, to a lesser degree, of Malaysia, Brunei and Taiwan.
ASEAN, founded in 1967, groups Brunei, Cambodia, Indonesia, Laos, Malaysia, Myanmar, the Philippines, Singapore, Thailand and Vietnam. It admitted Myanmar in 1997, despite strong opposition from Western nations.
Vietnam urges progress on building ASEAN Community  
Deputy Prime Minister and Foreign Minister Pham Gia Khiem addressed the 44th ASEAN Ministerial Meeting (AMM-44) on July 19, concentrating on such issues as building of the ASEAN Community and implementing the ASEAN Charter.
ASEAN member states needed to show determination and exert efforts to meet specific commitments for each year between now and 2015, Khiem said.
He stressed the need to implement a master plan on ASEAN connectivity and the special importance of mobilising resources, especially through dissemination information to attract contributions and participation from the private sector and partners.
Khiem said efforts needed to be continued to strengthen the ASEAN system and ensure the Charter is implemented fully and effectively. Legal documents would be necessary to implement the Charter while strengthening supervision and co-ordination among community pillars and between offices in each part of the community.
Khiem also emphasised the need to build awareness about ASEAN and the process of building the ASEAN Community. Viet Nam would support ASEAN by flying the ASEAN flag next to its own national flag at representative diplomatic offices beginning on ASEAN Day on August 8, he said.
He also proposed to strengthen the role and contributions of ASEAN in various international and regional fora. To maintain and promote its decisive role, Khiem said ASEAN needed to outline an agenda with a view to setting priorities suitable to each system and process while contributing to hastened dialogue, co-operation and trust, while ensuring compliance with and respect for international law and common standards of conduct.
The region needed to further strengthen co-operation in dealing with natural disasters, climate change, maritime security, food and energy security, and transnational crime, through such fora as ASEAN+1, ASEAN+3 and the East Asia Summit.
Addressing the issue of the East Sea, Khiem affirmed that peace, stability, security and maritime safety were a common concern and pressing aspiration of the region and all other countries. He said all countries must strictly respect the principles of international law, especially the 1982 UN Convention on the Law of the Sea and the Document on Conduct of Parties in the East Sea (DOC).
Viet Nam welcomed ASEAN's efforts in actively completing draft guidelines for implementing the DOC as well as reconnecting ASEAN Senior Officials Meeting (SOM) and the ASEAN-China meeting on the issue, Khiem said.
He urged ASEAN to strengthen co-operative frameworks between sub-regions, including the Mekong sub-region and said that sustainable development for the sub-region needed to be strengthened, harmoniously combining demand for economic development with environmental protection, while strengthening bilateral and multilateral co-operation in transportation, infrastructure, trade, investment and tourism development. It was also essential to have close co-operation and consensus between concerned countries to ensure the interests of residents and solid development of all lowland countries, he said.
Thuy Chung (from Bali)