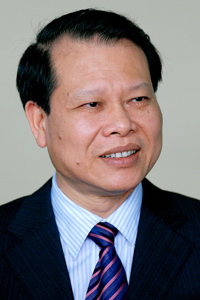 Finance Minister Vu Van Ninh.
VietNamNet Bridge – Minister of Finance Vu Van Ninh told the National Assembly on November 2 that the Vietnam Shipbuilding Industry Group's (Vinashin) huge debt of 86 trillion dong (around $4.7 billion) is frozen in its projects. But some projects are effective and some are ineffective.
Troubled shipbuilding group to be restructured for survival 


The Vinashin case continued being a hot topic at the NA session on November 2.
Deputy Nguyen Thi Bach Mai from Tay Ninh didn't agree with some cabinet members' explanation that many inspections were conducted at Vinashin but its financial problems were not detected on time because of the investigation mechanism. She asked "who designed the mechanism and who will be responsible for it?"
Deputy Hoang Van Toan from Vinh Phuc province said that it is unacceptable that nobody takes the responsibility for Vinashin's huge debt. It is obvious that Vinashin's leaders are be blamed for the debt but it is unfair to neglect the responsibility of relevant agencies in supervising Vinashin.
Finance Minister Vu Van Ninh, on behalf of the government,  outlined the Finance Ministry's responsibility in overseeing Vinashin's finance. In his 8-minute speech, Ninh quoted many government documents released in 2007-2009, which showed concerns over Vinashin's operation.
During this time, the Prime Minister instructed Vinashin to address its operations issues and check its investment profile but the group didn't follow the instructions seriously.
"When Vinashin submitted its plan to purchase ships to the government, the Prime Minister rejected it and told them to instead build the ships themselves but the group  intentionally proceeded with the purchase," Ninh said.
He said since Vinashin operated under the new model – of a State-owned group – since 2006, his ministry conducted an inspection in early 2007, followed by  four annual inspections.
Ninh said that Vinashin's debts that are guaranteed by the government have been added to Vietnam's public debt this year (which is estimated to account for 56.7 percent of the country's GDP) but he didn't specify the amount.
The Finance Minister told NA deputies that the government is compiling a new debt strategy for a 30-year period.
He further explained that an inspection conducted by his ministry had discovered that Vinashin set up many subsidiaries and made unreasonable investment using banking capital. The Ministry asked the government to address the issue of Vinashin's activities. However, as the government's instructions were not implemented thoroughly because of objective and subjective reasons within Vinashin, this resulted in the later failure.
He admitted that there were problems associated with the supervisory role of state agencies. "Vinashin's wrongdoings were detected through inspections. When inspections were conducted, the damage had  been done already," he said.
Many NA deputies said that Vinashin's debt of 86 trillion dong has lost but Minister Ninh said that Vinashin's assets in accounts are worth 103.77 trillion dong. "Thus, Vinashin's debt is still frozen? in projects. But among them are both effective and ineffective projects. The government has instructed to re-audit Vinashin," he added.
Deputy Nguyen Duc Kien from Soc Trang said that it is not important whether this group went bankrupt or not but what is important is the effectiveness of their investment of loan capital. He urged the government to set up a body to control the state capital and assets at enterprises to prevent similar cases from happening in the future.
He noted that after the Vinashin case, the NA and government should pay more attention to choosing and employing officials. One of the reasons that made the Vinashin case more serious was the fact thatone person acted as the Chairman, the General Director and the Party Secretary (Nguyen Thanh Binh) for a long time.
Deputy Tran Du Lich, an economist, also expressed his worries over the lack of legal frameworks for managing and supervising state-owned groups on the sideline of the NA meeting.
"In many countries, big groups operate under an act of the National Assembly and they have to report its operations to the National Assembly, not the Prime Minister or the government," Lich said.
PV