VietNamNet Bridge - The Philippines has put the idea to China of trying to resolve disputes over the East Sea territory through United Nations arbitration, the foreign secretary said Monday.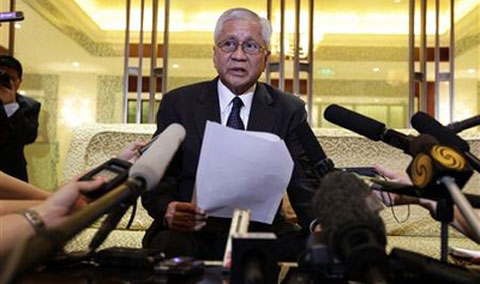 China, the Philippines, Malaysia, Brunei, Vietnam and Taiwan all claim territory in the East Sea. China's claim is the largest, forming a vast U-shape over most of the sea's 648,000 square miles (1.7 million square km), including the Spratly (Truong Sa) and Paracel (Hoang Sa) archipelagos.
Philippine Foreign Secretary Albert del Rosario said he made the suggestion to Chinese Foreign Minister Yang Jiechi in Beijing Friday with regard to the Spratly Islands.
"I suggested that we went to the international tribunal on the law of the sea," Del Rosario told a news conference in Manila.
"The Philippines is prepared to defend its position in accordance to international laws consistent with the U.N. Convention on the Law of the Sea and we asked them if they will be willing to do the same."
China has insisted on handling the disputes on a one-on-one basis rather than multilaterally, a strategy some critics have described as "divide and conquer."
"I don't think their position has changed," del Rosario said. "China maintains a bilateral approach. They wanted the issue to be discussed only by claimant states, not in an international forum."
ABC-CBNNews