VietNamNet Bridge - Tensions in the disputed waters of the South China Sea (East Sea) threaten to distract Adm. Mike Mullen, chairman of the Joint Chiefs of Staff, during a visit to China intended to build on a recent thaw in bilateral military ties.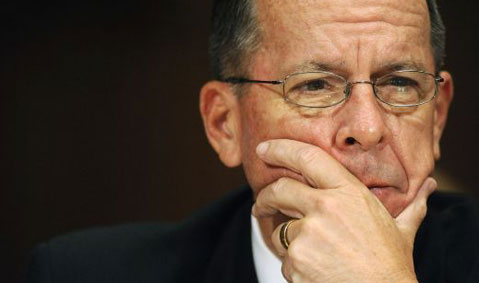 Adm. Mullen is due to arrive in Beijing Saturday just as the U.S. and its two main regional military partners—Japan and Australia—begin joint naval drills in the East Sea for the first time, a move likely to anger China, which claims sovereignty over nearly all of those waters.
Japan and the U.S. will each provide a destroyer, and Australia a patrol boat for the joint drills to improve tactical movement and communication off the coast of Brunei, two officials from Japan's Defense Ministry said in interviews.
The officials said the three countries have staged joint drills annually since 2007, but never before in the East Sea, where Taiwan, Vietnam, the Philippines, Malaysia and Brunei also have conflicting territorial claims.
China's Foreign Ministry did not immediately respond to a request for comment, but it has repeatedly protested in the past over U.S. naval exercises near what it sees as its territorial waters. Australian officials weren't immediately available for comment.
Pentagon officials appeared initially to be unaware of the exercises—as were the military's Pacific Command—and after confirming them took pains to play the down the exercises and head off any potential damage to U.S.-China relations, with one official calling them "very low level."
The U.S. has been trying to encourage more multilateral exercises with its allies in Asia. But U.S. military officials insisted the event announced by Japan "had nothing to do with sending a signal" to China.
"These are routine exercises we conduct in international waters all the time," said a defense official. "No nation should take any umbrage at this very minor, low level, routine exercise."
But even before the joint naval drills were announced, diplomats in Beijing said they expected the East Sea issue to dominate Adm. Mullen's visit.
He is the first chairman of the Joint Chiefs to visit China since 2004, and the first top-level military or defense official to come to China since Robert Gates, the former defense secretary, had his visit upstaged by China's test flight of the J-20—its first stealth fighter—in January.
Adm. Mullen's five-day tour is a reciprocal visit following one to the U.S. in May by General Chen Bingde, his Chinese counterpart, who attempted to reassure his American hosts that China did not represent a military threat to them.
Adm. Mullen is expected to convey a similarly positive message as he tours several military sites, meets Chinese military and civilian leaders, including President Hu Jintao's heir apparent, Vice President Xi Jinping, and delivers a speech to Chinese students.
But even as the two sides attempt to rebuild military relations, which only resumed in January following a year-long suspension by Beijing, tensions are mounting again over the East Sea, which expert say could include valuable deposits of oil and gas.
Several of the claimants have been strengthening military ties with the U.S. since Chinese military and civilian figures began making more assertive statements about their territorial claims in the area early last year.
China, meanwhile, has been accusing the U.S. of meddling in the issue since Hillary Clinton, the Secretary of State, declared in Hanoi last year that the U.S. had an interest in protecting freedom of navigation in the East Sea, through which much of the world's trade passes.
The dispute appeared to die down earlier this year, but has flared up again in recent weeks with a series of incidents at sea and angry public exchanges between China and other territorial claimants, especially Vietnam and the Philippines.
Vietnam said last month that Chinese vessels had hindered its oil exploration surveys in an area 200 nautical miles off its central coast that it claims as its economic exclusive zone.
The Philippines has accused Chinese vessels of intruding at least nine times into Philippine waters in recent months. China has denied the allegations from both countries and repeated its claim of sovereignty over almost the entire East Sea.
Philippine officials also said this week that they had banned a senior Chinese diplomat from meetings for allegedly raising his voice at a Filipino officer last month while discussing territorial issues.
The East sea was expected to be the focus of discussion between Albert del Rosario, the Foreign Minister of the Philippines, and his Chinese counterpart, Yang Jiechi, when they met on Friday in Beijing.
But a news release afterwards published by the official Xinhua news agency said only that the two sides would make "joint efforts to safeguard peace and stability in the region of the East Sea" in accordance with the 2002 Declaration on the Conduct of Parties in the East Sea.
The issue is also expected to be high on the agenda of the Association of Southeast Asian Nations Regional Forum in Bali, Indonesia, next week, which will be attended by foreign ministers of 10 Southeast Asian nations, and 17 other countries with interests in the region, including Mrs. Clinton.
Source: WSJ