VietNamNet Bridge - The US, Japanese and Australian navies on July 9 will hold a joint drill in the East Sea - most of which China claims as its maritime territory - Japan's defence ministry said.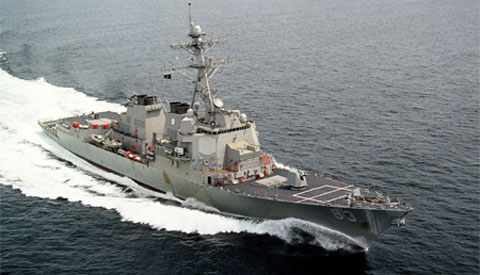 Japan's Maritime Self-Defence Force will send destroyer Shimakaze to join a US Navy destroyer and a Royal Australian Navy patrol boat for communications training and other drills off Brunei, the defence ministry said Friday.
It will be their first joint military exercise in the East Sea, most of which an increasingly assertive China claims as its maritime territory, but where several Southeast Asian nations have competing claims.
"The exercise is aimed at enhancing tactical skills of the Maritime Self-Defence Force and strengthening relations with the participating navies," the ministry said in a statement.
Tensions in the strategic and resource-rich East Sea have escalated in recent weeks, with the Philippines and Vietnam voicing alarm at what they say are increasingly forceful Chinese actions there.
They include accusations of Chinese forces opening fire on Filipino fishermen, shadowing an oil exploration vessel employed by a Philippine firm, and putting up structures in areas claimed by the Philippines.
Vietnam voiced anger after a Chinese vessel in May cut the exploration cables of a Vietnamese survey ship.
AFP