VietNamNet Bridge - The Philippines and China agreed to safeguard peace and stability in the South China Sea (East Sea) following the visit of Philippine Foreign Affairs Secretary Albert del Rosario in Beijing, China's state media reported.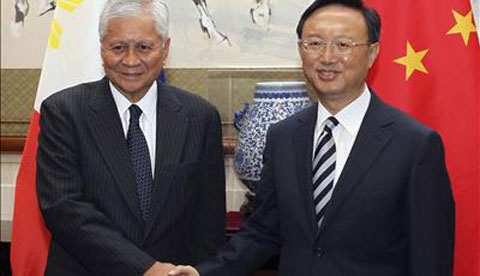 In a press release issued after the meeting, Chinese Foreign Minister Yang Jiechi said: "The two countries will make joint efforts to safeguard peace and stability in the region of the South China Sea in accordance with the Declaration on the Conduct of Parties in the South China Sea (DOC) signed by China and the ASEAN."
Del Rosario met with his Chinese counterpart Yang in Beijing this morning to apparently paves the way for a possible visit of President Benigno Aquino III in China late August of early September this year.
Yang earlier said del Rosario's visit would be helpful for the two countries, particularly on the increased communication and coordination in international and regional affairs.
The two diplomats discussed wide range of topics, including trade, investment, culture, tourism, defense cooperation, and coordination in combating transnational crimes.
Yang's positive statement came amid the resurging conflict between the Philippines and China on the Spratly Islands, which lies on the West Philippine Sea (South China Sea).
While the two officials remained mum of the specifics on the Spratly discussion, Yang pointed out that Del Rosario's visit would be beneficial to the bilateral relations between China and the Philippines.
Earlier, Filipino President Benigno S.C. Aquino III said he had directed Foreign Affairs Secretary Albert F. del Rosario to resolve disputes in the East Sea in his upcoming visit to China.
"One of the main topics would be the West Philippine Sea (East Sea). That's the essence of diplomacy. Settle the differences through talking rather than any other means and that is actually enshrined in the Constitution. So he will endeavor to have discussions on how to resolve this issue," said Mr. Aquino, in an interview.
Citing the importance of engaging in a dialogue, he said that his office is fixing the date for a state visit to China where he will personally meet with his counterparts and settle the dispute diplomatically.
The President has been consistent in his position that the Philippines should protect its national sovereignty, including maritime interests, using a "rules-based system for a peaceful, fair, advantageous dialogue, moving towards a resolution that is beneficial for all."
"No one wants a scuffle but that does not mean that we'll allow bigger countries to run roughshod over us," said Mr. Aquino.
"If we allow ourselves to be bullied maybe the next Filipino generation will cram themselves in one island. If we allow ourselves to be shoved aside, maybe tomorrow our 7,100 islands will just be two digits. It's not just for others to just take what is ours."
Philstar