VietNamNet Bridge - A recent mood sampling poll by GE Energy shows that almost 2 in 3 Vietnamese people rate air pollution as their top environmental concern, but it also reveals that more than 2 in 3 respondents are unaware that the burning of fossil fuels is one of the top causes of air pollution.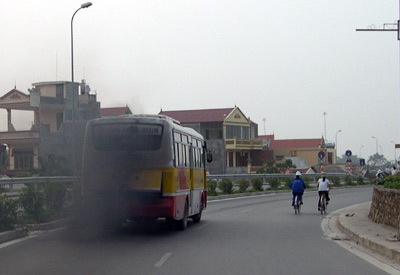 The poll also shows that the Vietnamese are the most ignorant of air pollution sources compared with Singapore, Malaysia and Indonesia.
Understanding is also lacking on the differences between fossil fuels, which are burnt to generate electricity, and renewable energy resources.
A handful of respondents mistakenly named fossil fuels such as coal, oil, petrol, diesel and natural gas as types of renewable energy although these fuels are finite and rapidly depleting resources.
Awareness of air pollution causes was higher in neighboring Singapore, Malaysia and Indonesia, as shown in the diagram below.
However, unaided/spontaneous recognition of renewable energy sources in Vietnam was generally comparable to Malaysia and Singapore, and higher than in Indonesia.
Hydro: VN (50%) MY (41%) SG (37%) ID (19%)
Solar: VN ( 58%) MY (59% ) SG (55%) ID (25%)
Wind: VN (33%) MY (53%) SG (47%) ID (9%)
Public education to support Energy Efficiency Law
"People need to know the simple message that they can improve the quality of the air they breathe in every day by reducing electricity usage. Energy efficiency labeling of electronics – under the new Energy Efficiency Law which just came into effect – is a great way to start educating the public," said Ayumi Konishi, Country Director for Vietnam of the Asian Development Bank.
"It's quite normal for most people not to know how much electricity their appliances consume. Most people tend to only recognize sources of pollution that they can see every day such as motorcycle, car and factory smoke emissions," said Konishi."
It's also quite common in developing countries for people not to know that a main cause of air pollution is the burning of fossil fuels for electricity generation without any special care. While we are still supporting use of coal or gas in Vietnam to keep up with rapidly increasing energy demand, we are paying particular attention to environmental aspects and we are also supporting the promotion of renewable energy sources with a hope that they will be mainstreamed in the future for Vietnam's environmentally sustainable growth."
Currently, Vietnam aims to generate 5% of the country's electricity from renewable sources by 2020 whilst the new Energy Efficiency and Conservation Law aims to attain a savings rate of 5-8% of the total energy consumption of the country by 2015.
Accelerate Renewable Energy Development
According to GE Energy's Country Executive Nguyen Xuan Thang, "Vietnam is one of the few countries in the Asia Pacific region to be blessed with enough renewable energy resources to balance its socio-economic development with its environment protection needs. In addition to its large number of streams, Vietnam has a long shoreline suitable for harnessing wind energy, and ample agricultural waste that can be converted to bio-energy."
Renewable technologies like wind energy are very beneficial for developing countries like Vietnam. In addition to lowering air pollution -- as wind farms generate no carbon emissions during operations -- usage of wind energy can slow down a country's depletion of finite fossil fuels like oil and gas.
Mr. Thang also commended Vietnamese government plans to promote waste-to-energy projects. "Gas engines are particularly suited to Vietnam as they are relatively small in scale and can utilize farming waste as well as landfill waste as fuel. Just one small gas engine can potentially power a village, and if many such engines were deployed in remote areas, people would not have to wait for the national (electricity) grid to be extended to their areas in order to enjoy the benefits of electricity."
In addition to Vietnam's enactment of the Energy Efficiency and Conservation Law, a World Bank Report states that the country would need to accelerate its development of renewable technologies to mitigate air pollution arising from Vietnam's high economic growth and rapid urbanization. According to the report, enabling investment in renewable energy projects would not just help Vietnam have cleaner air, but could help it avert becoming a net importer of energy in the coming decades.
GE (NYSE: GE) is an advanced technology, services and finance company dedicated to innovation in energy, health, transportation and infrastructure, GE operates in more than 100 countries and employs about 300,000 people worldwide.
Meanwhile, with more than 90,000 global employees, GE Energy serves the energy sector by developing and deploying technology that helps make efficient use of natural resources.
Polling for this survey was conducted by InsightAsia, an independent pan Asia research company.
The survey was designed to gauge public awareness of and consumer perceptions on renewable energy. In total, 1420 people were surveyed in Indonesia, Malaysia, Singapore and Vietnam.
Source: GE Energy