VietNamNet Bridge – The Hanoi authorities have instructed relevant agencies to accelerate the dredging of the Hoan Kiem Lake to finish the task before May 7, 2011.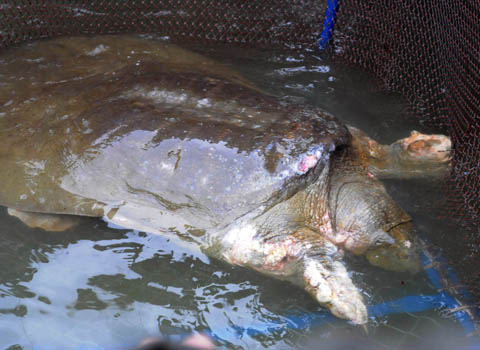 The dredging and cleaning of the lake must be finished quickly to serve the treatment of the legendary turtle.
According to experts, the turtle is now healthy and it doesn't need to live in its "sanatorium" anymore. However, Dr. Bui Quang Te, chief of the turtle treatment group, said that the turtle cannot return to its natural environment right now because the lake is not cleaned yet. However, if the turtle lives in cage for a long time, its skills to live naturally may be affected.
Te said the latest tests of Hoan Kiem Lake's water showed that the water contained a lot of bacteria, fungi, toxic algae, etc.
"Putting the turtle back into the lake when the water is still polluted, means that the treatment for the Hoan Kiem turtle will become useless. We have asked the Hanoi authorities to urgently clean the lake," Te said.
The turtle can return to its natural environment in two weeks. However, just a small area of Hoan Kiem Lake has been cleaned. 
Dr. Nguyen Viet Vinh, a member of the turtle treatment group, said that if the legendary turtle lives in the cage for a long time, it would be familiar to the cage and to the food supplied by man. The turtle is highly possible tamed. 
"The most important task right now is cleaning the Hoan Kiem Lake," Dr. Vinh emphasized. 
"Though the turtle lives in the clean tank, it still lacks natural substances in mud, which can make new diseases for the turtle. In addition, the turtle can be shocked when it returns to the natural environment," Vinh added.
The cleaning of Hoan Kiem Lake project consists of dredging mud, pumping clean water into the lake and preventing restaurants around the lake to discharge waste water into the lake.
The funding for this project is provided by four private companies, totaling VND8 billion ($400,000).
PV