VietNamNet Bridge – The council for treatment of Hoan Kiem turtle has decided to move the legendary turtle from the treatment tank to the "sanatorium".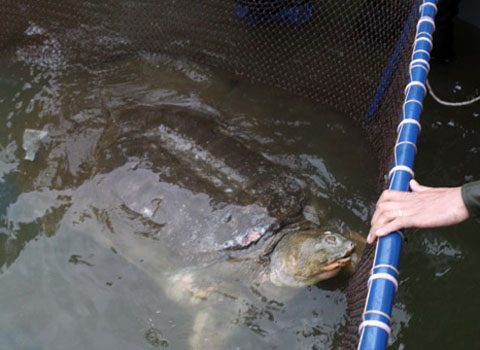 After a week of treatment, the turtle's health has made great progress. Wounds have no longer ulcerated and the turtle doesn't have internal injuries, said Dr. Bui Quang Te, the chief of the treatment team.
Te said that the turtle didn't get pneumonia. It only suffered from skin wounds caused by bacterial contamination and polluted water.
"Medical experts have decided to put the turtle into the sanatorium. The turtle can completely recover and return to the lake after 2-3 months in the sanatorium," Te confirmed.
However, Te worried that the lake will not be entirely dredged and cleaned up at that time.
The turtle was moved to the sanatorium on April 10.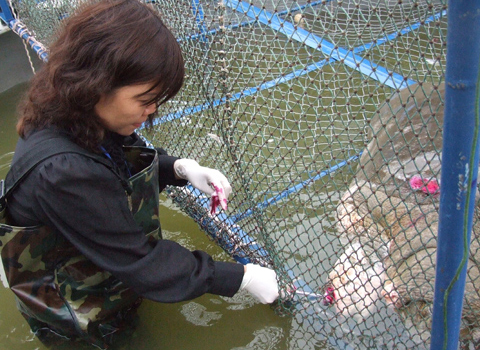 Before moving the turtle to the sanatorium, experts weighed and measured the turtle. They announced that the turtle is 169kg in weight, 1.6m in length, 0.8m in width. This turtle is smaller than the stuff turtle in the Ngoc Son temple, which is 250kg in weight, 2.1m long and 1.2m wide.
Previously, many scientists said that the living turtle was bigger than the one in the Ngoc Son Temple. Many people think that there is another turtle in the Hoan Kiem Lake. However, Prof. Ha Dinh Duc, who has researched the Hoan Kiem turtle for 20 years, still confirmed that there is only one Hoan Kiem turtle, with a white mole on its head.
Dr. Te said that the DNA test result will be released in a week, which will be the conclusion about the species, sex and age of the turtle.
PV