VietNamNet Bridge – Many readers emailed VietNamNet to support the idea that Hanoi may have two ancient turtles.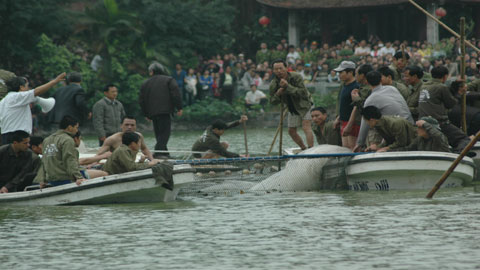 Hieu Nguyen (hieunguyen@...com) wrote: "I confirm that there are two ancient turtles in the Hoan Kiem Lake. The turtle in treatment is surely the one that floated on December 30 2010. You can see a video on youtube."
"In that video, the turtle looked quite healthy. There is another video clip filming another turtle floating on February 12 2011. This turtle had many wound and looked completely different from the turtle in treatment," the reader commented.
"From the two video clips, we can confirm that there are two ancient turtles. The remaining turtle is wounded more seriously and I ask relevant agencies to urgently catch the second turtle for treatment," Hieu Nguyen wrote.
"I think there are two turtles. The turtle in treatment has a smaller head and his shell is not as ulcerated as the turtle that we often see," wrote Dao Thi Thu Huong, from PG Bank.
Nguyen Viet Hung from Thanh Xuan district, Hanoi, supposes that there are three turtles. "On a Sunday in September 2009, I walked around the Hoan Kiem Lake and saw three big bubbles far away from each other. I didn't bring a camera that day… I think the lake may have three turtles".
Reader Than Ngoc Hien from Hanoi wrote: "I often go to Dinh Le Street to buy books by bus. I often walk from Dinh Le to Thuy Ta (the house on the bank of Hoan Kiem Lake). In November 2009 I saw turtles floating three times. Once I saw two turtles at the same time. I think Hoan Kiem Lake has at least two turtles. One of them is smaller and has an oblong shell".
"Dr. Ha Dinh Duc always protested the idea that there are two turtles in Hoan Kiem Lake but this is the matter of preservation. I wish scientists to take it serious to not make mistake. I confirm to see two turtles at the same time and Hoan Kiem Lake has at least two turtles," Hien wrote.
"We should take both turtles to the shore for treatment. Moreover, before dredging the lake, it is necessary to define that no turtle is left otherwise the remaining turtle may die because of our lack of caution," he added.
"Based on VietNamNet's article, pictures of two groups of bubbles and pictures taken by photographer Nguyen Tan Vinh, we can confirm that Hoan Kiem Lake has two turtles. Hoan Kiem turtle species is nearly extinct so scientists should not be complacent. Let's take all chances to protect them," a reader from HCM City wrote to VietNamNet.
"I walk around Hoan Kiem lake daily and I have seen the turtles floating many times. People who often walk around the lake like me have seen two turtles. One has a big black head and the another, which is smaller, has a yellow head. I don't know whether his skin changes according to the weather or not but the one with black skin gets more serious wounds," reader Nguyen Duc Toan from Ba Dinh district, Hanoi wrote.
"I think there are two turtles. In 1996 I saw a turtle which was much bigger than the one in treatment. His shell was dark grey, with the width of around 1.2 meters. After that I have seen the smaller turtle more often. The big one often floated near the shore while the smaller often floats far the shore," reader Vu Manh Cuong wrote.
Reader Bui Quoc Dung wrote: "In the winter of 1996 when I studied in Hanoi I saw two turtles floating at once. One turtle had a big head which was as big as the head of a one-year-old baby and the another's head was as big as the top of a thermos".
"In 1982, when I studied at Ly Thuong Kiet high school, my classmates and I often walked around Hoan Kiem Lake. I saw three turtles with my own eyes – two big ones and one which was about one third the size of the other two –sunbathing on the Turtle isle," Vu Quoc Hong wrote.
PV