VietNamNet Bridge – Workers of the Red River Shipbuilding Factory are building a big tank, which will be a "sanatorium" for the legendary turtle in Hanoi's Hoan Kiem Lake after the treatment process.
Hanoi fails to catch Hoan Kiem turtle
Legendary turtle surfaces often, good or bad?
Dr. Ha Dinh Duc, a member of the steering board to protect Hoan Kiem turtle, said that the small tank that was built in the middle of the lake in early March is only the "hospital bed" of the turtle. The second tank, which spans several hundreds meters in area, will be the turtle's sanatorium.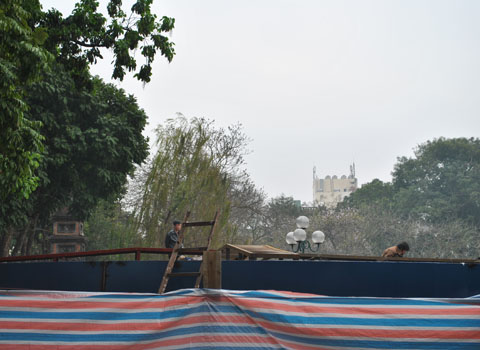 The tank is under construction
As the tank is too big, workers could not transport it to the lake by trucks. They have to install it on site, the eastern bank of the lake, near Dinh Tien Hoang road.
Dr. Duc said that the "sanatorium" will be the home to the ancient turtle for several months after the first phase of treatment. The turtle may stay in the tank for at least three months.
According to Duc, preparation for catching the turtle the second time has finalized, with the participation of 70 people, including 20 commandos from the Capital Military Region. However, the time has not been fixed yet.
PV