VietNamNet Bridge - Sustainable development of the Cuu Long (Mekong) Delta and achievement of its growth potential depend on more sensible exploitation of its agricultural strengths, experts say.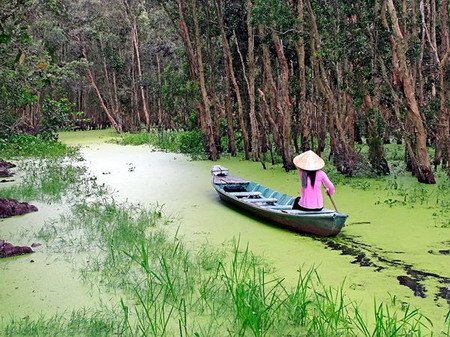 Professor Vo Tong Xuan, a rice scientist, said agriculture and aquaculture were fundamentally important for the delta's development, and any strategy excluding them would result in ruin for the region.
"Industry in the delta should be developed in the direction of supporting agricultural production and processing of agricultural and seafood products," Xuan said.
Xuan also said that fully exploiting the region's agricultural and aquaculture potential required the rezoning of cultivation areas.
"I have suggested a model to combine the cultivation of rice, fish, fruit trees and animal husbandry. Fish ponds would be adjacent to rice paddies, husbandry sheds and orchards and gardens," he said.
"Ponds would provide water for trees and gardens, and vegetables would feed cattle and pigs. Ponds would also provide irrigation for rice fields."
Xuan also felt earmarking separate cultivation areas for rice, fruit and fish or shrimp cultivation for the region as a whole would improve agricultural management and exploitation.
For instance, coastal areas with large amounts of brackish water would focus on aquaculture while areas further inland would mainly grow crops that need fresh water. This would reduce conflicts over the use of limited natural resources and ensure more balanced development.
With a combined area of 40,604sq.km that is crisscrossed by millions of inland canals and river systems, the delta accounts for half of the country's rice, 52 per cent of aquaculture and 90 per cent of its fruit production. It also accounts for 90 and 60 per cent of the country's rice and seafood exports respectively.
While local economists agree with scientists like Xuan that the region's agricultural potential has not been tapped well, they tend to differ on how it should be done.
Vo Hung Dung, director of the Viet Nam Chamber of Commerce and Industry (VCCI) in Can Tho City, considered the region's growth hub, told Viet Nam News that agricultural production had not reached its full capacity in the region.
While some localities' investments had paid off and improved production, many other areas had not spent enough on developing farming, aquaculture and fruit production, said Dung, an economist who specialises in the region.
"The delta did not have adequate industrial infrastructure for quick development of general industry," Dung said. "And a strategy and process for economic growth with a focus on agriculture was not implemented."
"Under the current system, farmers are not getting sufficient returns on their produce because investment has been too low", Dung said.
For example, star apples grown in Tien Giang Province under the Global GAP (Good Agricultural Practice) standards which require additional investment fetch higher prices than normally cultivated star apples.
The standards, which regulate the quality of soil preparation, cultivation methods, pest management, harvesting and storing methods, have helped raise farmers' incomes.
"It is obvious that farmers need to invest in production to produce GAP-standard fruits," he said, adding that both foreign and local buyers were interested in quality products.
"As you can see, the country's fruit imports are now higher than our exports, and we need to invest more. Industry can assist agriculture and aquaculture. For instance, it can offer modern processing technologies for storing agricultural produce."
Application of GAP standards also help fish breeders in the region meet import criteria set by European countries.
Because global GAP standards require quality packaging, the preservation and packaging industry should be developed in the delta, according to Dung.
"I agree that transforming the economic mechanism from agriculture to industry is a prerequisite for development of the Delta, but no one should forget investment for agriculture and aquaculture, which should serve as the base for industrial development," Dung said.
"That's the only way to have a sustainable economy for the delta," he emphasized.
Water management
Dr. Duong Van Ni of Can Tho University said the most crucial factor was to preserve and protect water for agriculture and aquaculture in the context of climate change.
"Each province is individually dredging its waterways, but they don't realise that this takes water from other places in the same river basin, causing a shortage elsewhere," Ni said.
Xuan, Ni and Dung praised the Government's initiative to formulate a masterplan for water resource management and land use in the delta.
They also said rice farmers needed policy help. "Only the Government can settle the problem of farmers suffering losses even when they have bumper crops," Dung said.
Several enterprise and industry associations have acknowledged that rice drying, husking and cleaning facilities should be physically closer to farmers, but the lack of roads are a big hindrance.
Dung said better roads leading to remote rice cultivation areas would help farmers meet rice exporters at convenient collection points, from where rice can also be transported to processing facilities more easily.
He also said farmers need credit assistance to meet production expenses to help them store harvested rice and sell at reasonable prices in the market. "Because of the credit shortage, farmers now sell all of their rice from their bumper crops, which then makes rice prices plummet."
Xuan mooted the idea of forming companies specialising in rice production management, processing and trading, saying they could work with other industrial sectors servicing the agricultural sector, and be based at collection points near the farmers' rice fields.
Meanwhile, the National Committee for the Southwestern Region, which is in charge of drafting policies to boost the development of the delta, has said it was working to create linkages between various sectors to boost development of the region as a whole.
According to Tran Huu Hiep, deputy head of the committee's office, a joint task force will be established for the purpose. The taskforce would comprise the committee, provinces, institutes and agencies, including the Southern Fruit Institute, the Cuu Long (Mekong) Delta Rice Research Institute, Cuu Long (Mekong) Delta Research and Development Institute, Can Tho University, the committee and the National Assembly.
"The linkage between provinces and sectors is expected to help the region meet its full potential and to set up a common base for sustainable development of 12 provinces and city (that comprise the Cuu Long (Mekong) Delta)," Hiep said.
Source: VNS