VietNamNet Bridge – The old turtle in Hanoi's Hoan Kiem Lake, one of the four remaining individuals of Hoan Kiem turtle species in the world, rose to the surface very often in the last three days. The turtle stayed on the surface for hour each time and he didn't move, causing worries about his health.
Hanoi sets up committee to save legendary turtle
Legendary turtle not to be fished out for wound treatment
Hoan Kiem to be cleansed of Exotic turtles in March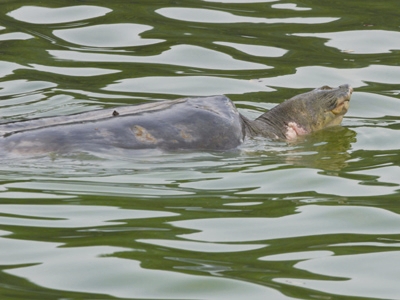 The old turtle surfaced for up to three hours, the longest time in the last three days, from 2.30 to 5.30 pm of February 20. This time he only emerged his head and moved very slowly.
He stayed for around 1.30 hours at a location of 10m from the shore. Each 15 minutes he emerged for tens of seconds and then submerged at the same spot.
Journalist Ha Hong, vice head of the People Daily's Science and Education Division, who have directly observed the turtle 50 times, said that the position was only 60cm deep. He also said that it is unusual when the turtle stayed at the location for such a long time.
From February 17-20, the turtle surfaced five times while he only rose 14 times in entire January 2011 and 9 in January 2010. According to Dr. Ha Dinh Duc, who has researched the ancient turtle since 1991, the turtle only rose three times in 1991.
Senior photographer Nguyen Tan Vinh, after taking the latest photos of the old turtle on February 20, said: "Seeing him  makes me very anxious. The city authorities need to take faster actions".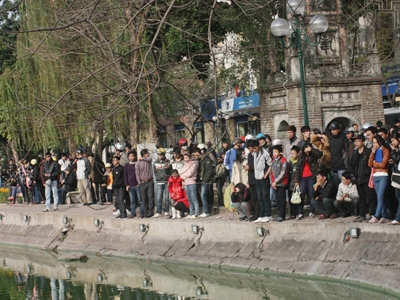 Some experts said that perhaps the turtle suffers from pneumonia and he needs to rise for oxygen. Some others explained that the water is polluted by toxic marine algae so the turtle has to rise.
However, Douglas Hendrie from the Education of Nature – Vietnam said that it is normal for the turtle to rise in the warm weather, after a long period of cold weather in Hanoi.
Researchers from the Institute for Aquaculture 1 suggested to test water of Hoan Kiem Lake to seek agents that can harm the turtle and research solutions to remove the agents.
PV