VietNamNet Bridge – A picture featuring a father who fanned, stroked hair of his daughter who lied down on the grown to sleep, using her dad's thigh as pillow, at noon to wait for the afternoon university exam on an online newspaper has touched the heart of many people.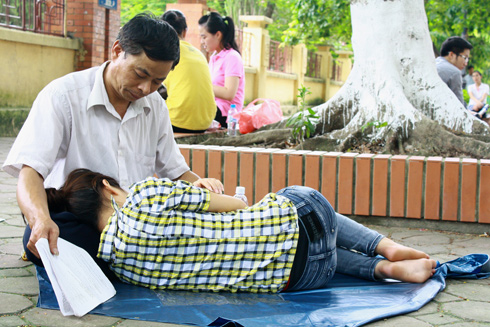 The picture has been posted on many social networks, with hundreds of comments on father's love.
The man in this picture, Mr. Nguyen Xuan Lu, 48, said that his home is in Thai Binh province but he works in Hanoi. Lu sometimes returns home to visit his wife and children.
This year his daughter, Phuong, 18, participated in the entrance exam of the Hanoi Economics-Industry College. The father took his daughter to the examination compound in Hanoi, which is far from their home.
After the first exam in the morning, they stayed at the school for the next exam on the afternoon. The father told his daughter to try to sleep to regain strength for the next exam.
After this picture was posted on an online newspaper, it has appeared on many online forums. Many people wrote that they cried and remembered memoirs with their fathers when they saw this picture.
"Six years ago, my father got up early in the morning to prepare breakfast for me, to prepare for the university entrance exam. On the day of sitting exams in a strange city, it rained. He tried to borrow an umbrella from someone to hide his daughter from rain after exams…," nickname Kitty Lien wrote.
"I cried when I saw this picture. My father died when I was a baby so I do not know how warm a father's love is. You are so lucky to have a great father. I believe that you will be successful," one with nickname Akirasa wrote.
Some people said that this picture of father's love is the most accurate answer for the literary exam question about "idol" this year. "Father is not perfect but father loves his child in a perfect way. Idol is not far from us. Is this the answer for this year's literary question?" one wrote.
Through this picture, many people disagreed with crazy fans of Korean pop music who protested their parents and families on online forums for trying hindering them from following their idols. They said that their parents, who scarify their lives for their children, are worthy to be idols.
Compiled by
S. Ha