VietNamNet Bridge – The central province of Khanh Hoa will inspect the purchasing and harvesting of coral in Van Ninh District to curb the illegal activities in the area, said deputy chief inspector Le Van Dung on Thursday.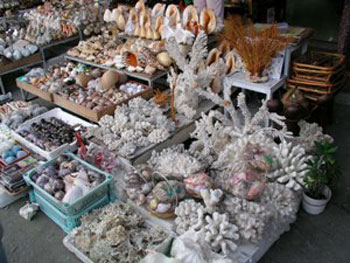 Illustrative image. (Photo: Internet)
Dung, from the provincial Department of Agriculture and Rural Development said the interdisciplinary inspecting team included his department's inspectors, environmental police, border guards and local authorities. They would focus on the inspection of the illegal harvesting and purchasing of coral from June.
Dung said recently, the exploitation and transportation of coral had been very complicated in the coastal communes of Van Ninh District. Exploiters did not only get corals illegally with simple tools, they even used excavators, air scoops, and automobiles to get and transport the corals at a maximum volume.
Many of the exploiters even fought against the authorities if they were asked for a check, the inspector added.
According to local information, illegal coral exploiting has boomed in recent years from an increasing demand from coral traders who hire local people to exploit coral for their production purposes. Coral can be processed as lime, fine art, garment materials or lobster traps. They also report that the price for it is high, ranging from for VND300,000-600,000 (US$15-30) per cu.m of coral.
Nguyen Van Loc, vice chairman of Van Hung Commune, said though they regularly checked the operation in the commune, they could not yet fix the problem as most of the exploiters were poor villagers and couldn't be treated as the traders from HCM City.
Loc added that most of the provincial coastal areas had the same problem. The exploiters even set up markets for trading the coral in the communes of Van Hung, Thanh Van and Ninh Hai.
Besides strict inspection and punishment of violators, inspector Dung said they would promote education in communes and open training courses.
According to research, coral reefs in Khanh Hoa Province with most of the best beaches in Viet Nam are the habitat for flora and aquatic plants. They play an important role in the protection against seawater intrusion. If they are destroyed, increased sea water erosion hazards and degraded aquatic resources are likely.
VietNamNet/Viet Nam News