VietNamNet Bridge – Mr. Nguyen Mau Oai, 85, in Tho Xuan district, Thanh Hoa province, has illegally raised a dozen of tigers since 2006 but the local authorities have not taken any action.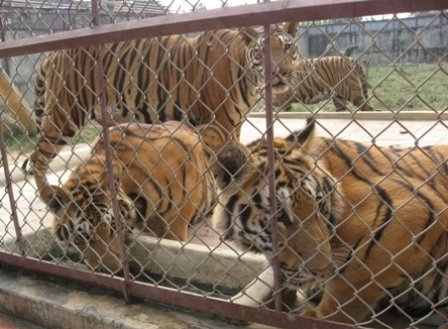 A neighbor says that Oai breeds 14 tigers. "Sometimes they fought with each other at night. They bawled and kept us awake," the neighbor adds.
Mr. Oai's village is famous for processing glue from cow, buffalo, dog and pig bones. But local residents say that Oai raises tigers to process tiger bone glue.
Oai's tiger camp has attracted many visitors. Sometimes, several tigers were reported dead because of diseases, which raised doubts among local people. The number of tigers in Mr. Oai's camp changes very often, from 10 in 2007 to 7 in 2008, 10 again in 2009, 7 again in 2010 and 14 in 2011.
The question is why the local authorities have neglected this tiger camp and nobody has inspected the origin of the tigers.
Mr. Oai says that in 2006, his son, Nguyen Mau Chien, who works in Hanoi, purchased these tigers, which were baby tigers at that time, from an ethnic minority man. At present, the tigers weigh from 250 to 300kg.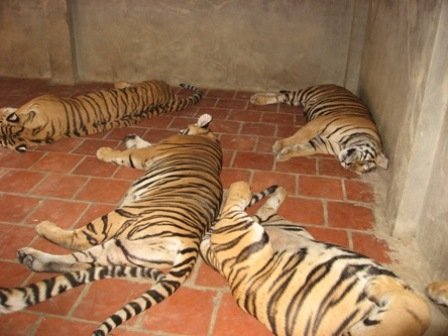 Asking him about the license to breed tigers, he says that in early 2012, his son orally asked for permission from Thanh Hoa's Chairman. He adds that he has transferred the tigers to his son-in-law, Mr. Nguyen Van Tu, a local official.
In 2008, the former Chair of Thanh Hoa province, Mr. Mai Van Ninh, signed decisions to impose VND30 million ($1,500) on Tu and VND30 million on Chien for illegally raising ten tigers. However, these men have kept raising tigers, with changing numbers.
Mr. Le The Long, chief of the Thanh Hoa Forest Protection Department, says that Mr. Chien and Mr. Tu are not licensed to breed tigers. The Vietnamese law also does not permit households and individuals to trade or breed rare wild animals, including tigers.
Mr. Le Quoc Viet, another official from the Thanh Hoa Forest Protection Department says that the National Forest Protection Agency must take action against families that breed tigers in Tho Xuan district, Thanh Hoa province and release tigers back to the forest.
Viet also asks the environmental police agency to investigate the number of tigers owned by Tu and Chien.
Le Na