VietNamNet Bridge – If the sea level rises by one meter, nearly 40 percent of Vietnam's Mekong Delta will be flooded, according to the Ministry of Natural Resources and Environment's (MoNRE) latest scenario of climate change in Vietnam.
Viet Nam to mobilise climate change funds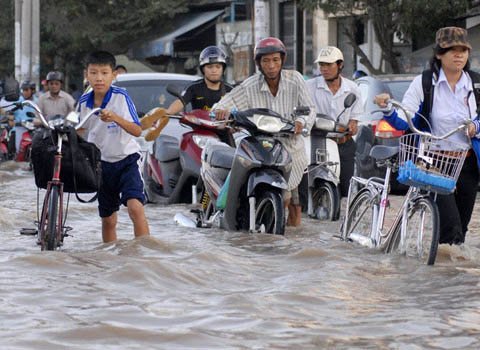 The scenario is built based on estimated volume of global-scale greenhouse gas at three levels: high, medium and low.
According to the high-level scenario, by the end of the 21st century, the sea level of Vietnam's coast will rise from 57-73cm. The coast from Ca Mau to Kien Giang in southern Vietnam will suffer from the highest sea rise level – 105cm.
Dr. Tran Thuc, director of the Institute for Hydrometeorological and Environmental Sciences, said that at the above sea rise level, around 39 percent of the Mekong Delta will be submerged and 35 percent of the delta's population will be affected.
Around 20 percent of HCM City's area will be directly impacted by the sea rise level.
By 2100, Vietnam's average temperature will increase from 1.6 to 3.6 degree Celsius.
According to the United Nations, Vietnam is among five countries that will be most affected by climate change.
Mai Lan