VietNamNet Bridge – Mr. Ngo Hoang Viet has never forgotten to wear mask whenever he went to street for years. Viet said he is afraid the most the after-work hour because that is the time of dirt and smoke from vehicles.
Hanoi's air quality declines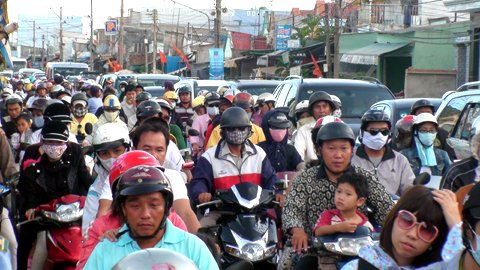 "It is said that men look less manly if they wear mask but for me, protecting health is more important," Viet, 27, a banking employee, said.
Living in Hanoi's inner area, Viet suffers from cough, stinging eyes, dry throat and rhinitis very often. He said whenever he got out of Hanoi, he felt better.
Nguyen Viet Phu, 25, from Dong Da district, Hanoi, said whenever he passed roads where have construction sites, his eyelashes turned into brown even though he wore sun glasses and mask.
"After rains, when roads are dry, dirt was dense on the road," Phuc said. He added that once he drove a motorbike behind a bus. Suddenly, the bus spouted black smoke onto his face. "At that time, I could not breathe. I almost fainted."
The two men's feeling of air pollution in Hanoi has been proved by scientific research.
Vietnam is listed amongst the top ten countries with the worst air pollution in the world, according to the 2012 Environmental Performance Index (EPI), which was released during the World Economic Forum 2012 in Davos, Switzerland.  
The annual study uses satellite data to measure air pollution concentrations and has been produced by researchers at Yale and Columbia universities.
Of 132 countries whose environments were surveyed in relation to effects on human health, Vietnam places 123rd in the air category, 80th in the water category and 79th in addressing pollution control and natural resource management challenges.
Air pollution at Vietnam's cities has been warned by scientists for a long time.
Professor Pham Ngoc Dang, chairman of the Vietnam Environment Construction Association said air in most urban areas was filled with dust, especially in traffic junctions, construction sites and industrial parks.
According to the national environment report 2010, the major source of air pollution is transport, construction and industrial activities. Transport activities, particularly, contribute 70 percent to air pollution.
The Vietnam Environment Observing Centre estimated that transport activities make up 85 percent of CO (carbon oxide), 95 percent of VOCs (volatile organic compounds) and other toxic gases to the environment.
The clearest sign of air pollution is the dust density in the air. The density of dirt at big cities' transport centers always exceed nationals standard. This kind of super-small dirt easily penetrate lungs, blood vessels and cause fatal diseases like heart diseases, lung cancer, asthma and respiratory contamination.
According to experts, air pollution will seriously affect people's health, causing diseases related to the respiratory system, eyes, ears and skin.
Prof. Dang, who has researched Vietnam's air environment for a half of century, confirmed that the 2012 EPI result is accurate for Vietnam's big cities.
The professor did not reject Vietnam's efforts in protecting the environment in recent years. Thanks to the government's efforts, air pollution in Vietnam increased only 20-30 percent in the last 20 years, he said.
Deputy Minister of Natural Resources and Environment Bui Cach Tuyen admitted that the quality of air in many big cities in Vietnam is declining. However, the conclusion of EPI 2012 needs to be verified.
Big cities in Vietnam have high percentage of lung disease patients. According to the Ministry of Natural Resources and Environment's statistics in 2008, the ratio of tuberculosis patients in HCM City was five times higher than that of mountainous provinces like Dien Bien or Bac Kan. Notably, up to 62 percent of HCM City's traffic police officers suffered from ear-nose-throat diseases, compared to 36 percent on average.
Tuyen said that the Ministry of Natural Resources and Environment will develop a national air quality control plan, focusing on Hanoi, HCM City and big cities.
Prof. Dang said that Vietnam is only interested in dealing with water pollution rather than air pollution because it is easier to recognize water pollution.
Understanding the sufferings of ear-nose-throat diseases, banking employee Hoang Viet told his friends that air pollution would erode man's health. "It erodes your health gradually so you will not see the consequences immediately. I think air pollution is as harmful as cigarette," Viet said.
While waiting for plans to clean the air, Viet said he would continue wearing mask, though it may makes him less manly.
VNE