Forest rangers in the Dong Nai Natural and Cultural Conversation Zone in Dong Nai Province yesterday saved a 100-kg elephant that had fallen into a well.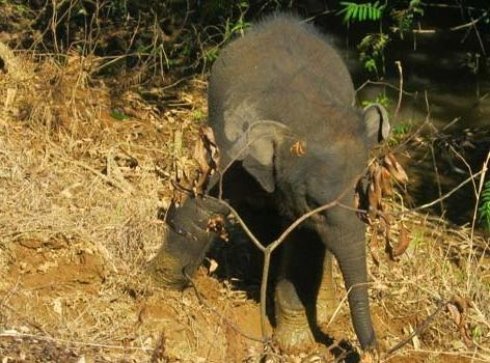 With the help of local residents, the rangers managed to take the elephant out of the 2-m deep well in Subzone 59, Phu Ly Commune, Vinh Cuu District, said Tran Van Mui, the zone's director.
Some locals had earlier heard the howling of the elephant and reported to the rangers, who later found the well where the animal was stuck.
They dug a ditch on a side of the well and then used ropes to pull the elephant out.
The number of wild elephants in Dong Nai has been reduced from 17 in 2009 to 10 at present, Mui said.
To protect the remaining wild elephants and prevent them from attacking humans, the zone plans to set up a 30-km electric fence with an intensity of 800-1,000 V/10 mA around the area they are living.
The fence will give a slight shock when touched but will not be dangerous for both humans and animals.
About 1,500 warning signs will be installed along the fence to inform local residents of the area where the wild animals live.
There will be 8 gates set up for rangers and people to enter and exit the zone.
The fence is expected to cost VND6 billion (US$286,000) and to be completed in 2014, Mui said.
Tuoitre