VietNamNet Bridge – The Hanoi Department of Natural Resources and Environment has made public a report on Hanoi's environment in 2011, which shows that the capital city's air quality is reducing.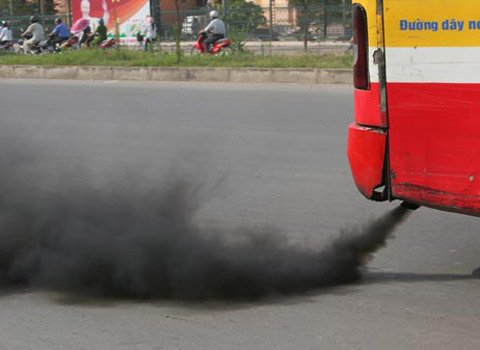 According to the report, transport is a major source of air pollution in the city. Vehicles discharge many types of exhaust fumes into the environment, including carbon oxide (CO), volatile organic compounds (VOCs) and nitrogen dioxide (NO2).
VOCs contain many chemicals which harm man's health. VOCs can come from thousands of products, especially indoor products like paints, cleaning chemicals, construction materials, etc.
Dr. Hoang Duong Tung, director of the Environmental Observation Centre, said that the dust concentration in many areas in Hanoi has exceeded standards. Pollution at traffic hubs and construction sites is at high levels.
Exhaust fumes increase annually along with the development of vehicles and construction sites, particularly high-rise buildings.
Most of crossroads and construction sites in Hanoi have very high dust concentrations, especially on Kim Lien, Giai Phong, Phung Hung, Nguyen Trai roads.
Hanoi has begun to modernise old air-quality monitoring stations this year under a plan approved by the city government.
The old system was believed to be complicated and show little effectiveness in monitoring air quality.
The replacement programme is scheduled to finish by 2020 with a total number of 360 modern stations instead of more than 1,250 old ones.
The two-phrase plan aims to improve data collection and analysis of changes to air-quality and meteorological elements, therefore giving solutions to reducing air pollution and protecting community health in the city.
There will be seven automatic air-quality monitoring stations, five more than are currently in use.
The committee has assigned the city's Natural Resources and Environment Department to direct the plan.
Under the plan, the department will have to build and operate three air quality monitoring stations in areas where with high risks to air pollution during the first phrase, which is expected to finish in 2015.
This will ensure the management of the technical apparatus that will be understood and will allow the training of observers.
The second phrase is planned to launch for the period of 2016-20, where all air-quality monitoring stations will be operating effectively as part of the national environment monitoring system.
Kim Thoa