VietNamNet Bridge – After being healed, the Hoan Kiem Lake's legendary turtle has risen to the surface many times. On December 5, the turtle resurfaced twice.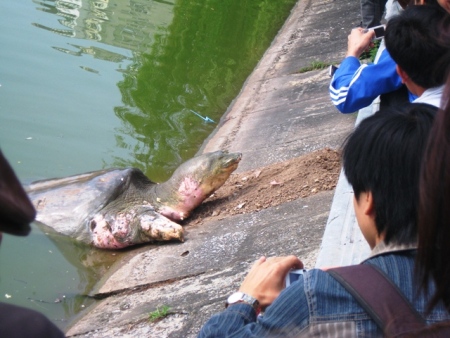 According to Dr. Ha Dinh Duc, who has researched the turtle for 20 years, the latest time that the iconic turtle resurfaced was on December 5. On that day the turtle rose to the surface twice, at noon, in the witness of many people.
Before being isolated for wound treatment, the turtle resurfaced very often due to pollution. During its 100 days in a special tank, the lake was cleaned.
However, since the turtle came back to its 'home', the turtle still rose to the surface several times a month, at least twice in July, 7 in October and 12 in November. In the first days of December, he resurfaced twice.
Dr. Duc did not comment of the reason but said that he is collecting further information.
About eight months ago, experts in Hanoi captured the giant turtle for medical treatment after finding many serious wounds on its body.
Scientists said they believe the turtle may be more than 100 years old and a member of the critically endangered 'Rafetus Swinhoei' family of turtles, although others have dubbed it an independent sub species, 'Rafetus Leloii.'
According to Vietnamese legend, a giant turtle in the Hoan Kiem Lake reclaimed a magic sword given to King Le Loi in the 15th century that he used to win independence from China's Ming Dynasty. The lake was thereafter named "Ho Hoan Kiem," or "Lake of the Returned Sword".
Ai Minh