VietNamNet Bridge - Vietnam will be the first Mekong River Commission's (MRC) member country to receive a hydrological observation system next January under the Hydrological Cycle Observing System project (HYCOS).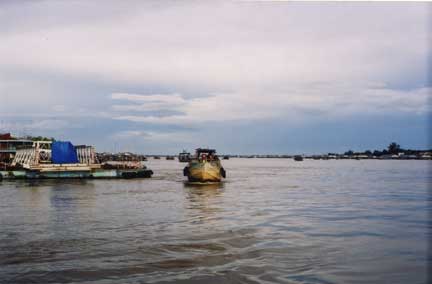 The MRC and the country's Ministry of Natural Resources and Environment last week discussed measures to ensure sustainable development in the river basin and the roadmap to transfer key functions of the MRC.
At the meeting, Deputy Minister of Natural Resources and Environment Nguyen Thai Lai, said that to ensure water, food resources and to preserve the Mekong River Delta, Vietnam will be the first member state of the MRC to receive gauging stations from the MRC Secretariat in January 2012.
From 2012 to 2015, the MRC will transfer its key functions to member states, including Vietnam, Laos, Cambodia and Thailand, in a bid to enhance the self-independence of member countries.
The MRC's key functions include: collecting, exchanging data and observation, analyzing and evaluating, assisting plan-making process, giving forecast and warning, performing the commission's procedures, encouraging dialogue and coordination, reporting and diffusing information.
Established in 1995, the MRC is the only inter-governmental agency that works directly with the governments of Cambodia, Laos, Thailand and Vietnam on their common specific interests—joint management of shared water resources and sustainable development of the Mekong River.
HYCOS aims to establish an efficient, reliable and accurate hydrometeorological data collection and transmission system at basin level, while also strengthening relevant national and regional capacities. This information will be shared between the MRC's four member countries.
PV