VietNamNet Bridge – The javan rhino is extinct in Vietnam. This is sad news for Vietnam's wildlife preservation sector. This ending is blamed on related management agencies and problematic management mechanisms.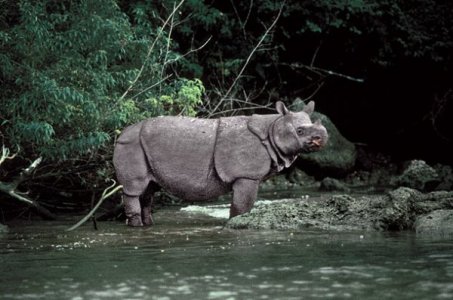 In the fight against poachers, those who represent the government to protect and develop forest cannot protect themselves.
This believe-it-or-not story happens in Vietnam. Does the Minister of Agriculture and Rural Development Cao Duc Phat know about it?
From the US…
The author of this article met with a real forest guard – Ed Newcomer, an American expert, who rebuilt the scene where the last Javan rhino was found dead in the Cat Tien National Park last April.
While speaking, Newcomer drew the scene where the Javan rhino was dead. In some words, he explained the situation very clearly and easily understandable to attendants, who are scientists, journalists and investigators of Lam Dong province, where hosts part of the Cat Tien National park.
It is interesting that Newcomer had not met with Lam Dong's investigators before. He only researched documents provided by the park's rangers and the scene where the Javan rhino died. Newcomer's professional style has astonished all participants.
According to Newcomer, in this US, forest guards have the right to stop strangers who enter virgin forests. If these people ran away or withstand, forest guards are allowed to open fire for warning or shot down the suspects.
If poachers escape from forest guards, they will be arrested on the way out of the jungle by local police, after forest guards make a fall call.
It is very difficult for poachers to escape from American jungle because the buffer zone is extensive and poachers cannot hide into residential areas. Moreover, if someone goes into jungles without the forest guards' permission, they will not receive insurance in case they are attacked by wild animals.
… to Vietnam
Tran Van Thanh, director of the Cat Tien National Park would be very jealous with Newcomer because he uttered that in Vietnam, poachers are not afraid of forest guards but vice versa.
If one googles with the key words "forest rangers are attacked," he will get 921,000 feedbacks in 0.18 seconds. In Vietnam, forest rangers of all national parks have been attacked or threatened by poachers.
Do Manh Han, vice chief of Cat Tien National Park Protection Division, who has been a forest guard for 20 years, said: "Poachers have intimidated to kill me many times."
This veteran has several times seized guns of poachers by his martial art skills while his gun is only used as "decorative item."
Not only Han but all other forest guards that the author met have the same answer, which is ridiculous and absurd: they are equipped with guns but they are not allowed to shoot anyone. The guns are only used to fire into the air.
It is very odd that legal guard protectors are not allowed to attack wrongdoers, because if a poacher unfortunately dies, forest guards will face a lot of troubles, which come from revenge and the troublesome of the so-called "mechanism."
Ha Cong Tuan, vice chief of the General Department of Forestry, told the Laborer Newsaper: "The State has wildlife preservation projects, for example the project to preserve elephants in Dak Lak, Dong Nai and Binh Thuan but state's funding for these projects is very limited. So we cannot do anything we want."
This official's explanation is very familiar. All problems in Vietnam are caused from shortage of funding.
In a recent survey at the Yok Don National Park, Minister Cao Duc Phat was reported that the park's forest guards are paid less than VND3 million ($150) per month. He was also reported that poachers are supported by forest guards.
Minister Phat emphasized that fighting poachers must be implemented in the way of the fight against drug crime and the forestry sector must take initiative in combating poaching.
The public expect Minister Phat to keep his promise because he opened his field trip to Yok Don by an impressive statement, which was quoted by the Vietnam Economy newspaper: "I come here not for sightseeing and not to hear good reports but the truth!"
Mr. Minister! With wages of less than $150 per month, forest guards have to face dangerous poachers, who are compared to drug-related criminals, and are "tied" by mechanism. Who will dare to protect the forest? Or part of forest guards lend a hand to poachers?
Throughout the country, many projects are licensed to chop off forest to plant rubber and other industrial trees or even cutting down virgin forest to plant the forest again… These projects must be supported by high-ranking officials of forestry agencies and even officials at higher level to be licensed.
The truth about forest guards whose hands are tied is among a lot of truths about miserable process to protect forest, Mr. Minister.
TVN