VietNamNet Bridge – The legendary turtle was released back to the Hoan Kiem Lake on the afternoon of July 12, in good health, after three months of treatment in a tank.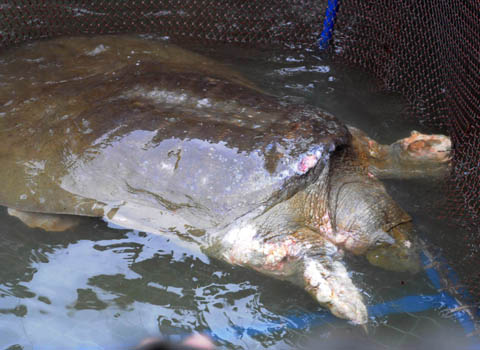 The turtle before treatment…
"The lake's environment is now safe for the turtle," said Le Xuan Rao, director of the Hanoi Department of Science and Technology.
Tens of thousands of fishes like carps, chubs and anabas were released to the lake as food for the turtle. Part of the law was also dredged.
The Hoan Kiem turtle was put into a tank for treatment three months ago, after local newspaper post a lot of pictures of its injuries. Hanoi set up a steering board to take care of the turtle.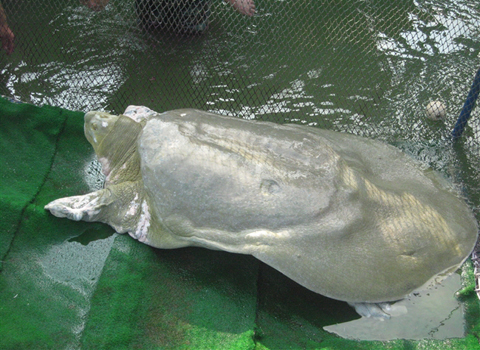 … and after treatment.
The turtle is a spiritual and a living icon of the country's historical legend on fighting foreign invaders. Many workshops have been held to seek measures to protect and preserve the Hoan Kiem turtle. According to international experts, there are only four individuals of the Hoan Kiem turtle in the world. However, some Vietnamese scientists confirmed that the Hoan Kiem turtle is the only individual of its species so the requirement for preservation is more urgent.
The campaign to catch the turtle for treatment attracted thousands of local people and the local and international media.
The Hoan Kiem turtle is defined as a she, 1.26m long, 1.03m wide and 169kg in weight.
The turtle's injuries have been cured successfully. However, there is no more information about the preservation of this giant turtle species.
PV