VietNamNet Bridge – Many respected scientists, who enjoy high prestige and meet all requirements to be eligible for the professorship, still have not been granted the title. Meanwhile, the qualifications of many professors and associate professors are questionable.

Vietnamese Professor Ngo Bao Chau wins Fields Medal

High requirements set, but…

Every time when the State declares the list of the scientists toreceive the titles of associate professor or professor, this makes people think that there are so many professors in Vietnam. Meanwhile, universities think that Vietnam has a still modest number of professors. At some universities, there are only a few professors.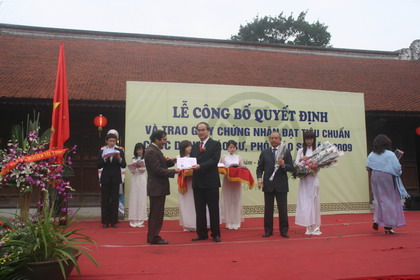 The professor title awarding ceremony
In fact, Vietnam's science remains weak, which means that, even though there are thousands people who have professorship,Vietnam still lacks the scientists who actually have the professional skills of associate professors or professors.

In order to get a professorship, scientists have to meet very high requirements, in terms of their qualifications, foreign language skills, the number of published scientific research works, and their political and moral integrity.

Some educators make sarcastic remarks that if Einstein had applied for the professorship in Vietnam, he would have failed to get the title.

In order to become professors or associate professors, applicants must also receive enough votes from the members of the professor title council, which also consists of respected professors.

However, the truth is that many professors still have "questionable" qualifications. At least more than half of Vietnamese professors and associate professors cannot speak any foreign language. On the other hand, a lot of scientists who meet all the requirements and have high reptuation, still have not become professors.

Perhaps, the key to the question lies in the hands of the members of the professor title council.

A lot of scientists, who have outstanding achievements in their fields, still cannot get the professor title, though they have been applying for the title for the past many years. Some others have got the desired title, but they do not feel happy about it. They were ashamed when admitting that in order to become professors, they had to "go pay a visit to some VIPs". Of course, they did not go to see them with "empty hands".

There are several reasons why the professors feel unhappy. First, they are all over 50 and they have had the doctorate for tens years, but they still have to lobby for the title of professor and have to be anxious about this like a student before entering the exam room. Second, some members of the professor title council prove to be dishonest and unfair.

In order get professorship, one should "visit" members of the professor title council

A story has been related that a member of the professor title council once said to a friend: "I know he (a friend of both of them) has applied for the title of associate professor this year. But he has not told me anything". The words later reached the candidate's ears, who immediately understood what the member of the council implied.

Another story has been related when a group of Vietnamese students, when studying at a Russian university, came to visit a Russian professor, they gave a bottle of wine to the professor. The professor was very happy with the gift and he invited the students to sit down to drink wine and talk. When the students said goodbye, the professor gave the students a bottle of wine, which was even more expensive. Why? "Because I am a professor and my income is higher than yours".

This story raises the following question: All the members of the professor title council are professors, who certainly have higher income than the candidates for professorship. Why do they still want the money from the candidates?

Several months ago, a candidate, who was very famous among scientists, once again, was refused to be granted the professor title. In 2009, four out of 11 council's members voted against, and in 2010, three out of 11 members voted against.

What needs to be emphasised is that the candidates really deserved the title. Therefore, before the ballot, all the members of the council said they would vote for the candidate. Nevertheless, the candidate still failed to get it.

In many cases, the members of the council, who hold some grudge against VIP persons but cannot do anything to them, decide to take revenge on their relatives or friends by refusing to approve their professorships. Meanwhile, the VIPs also let the to council's members know that "If you play dirty on my relatives and friends, I will not leave you live in peace".

Ho Bat Khuat