VietNamNet Bridge – High schools all have career advisers, the teachers, who are in charge of giving career advices to students. However, the teachers still lack the knowledge about careers.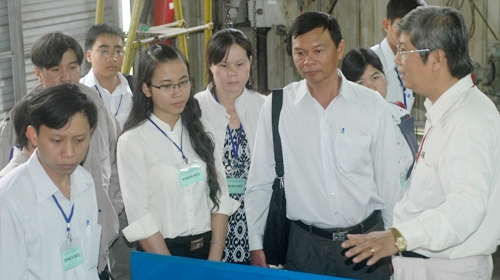 Teachers lacking information
In the morning of January 14, 2011, Tran Thi Ngoc, a philology teacher of Le Hoan High School in Gia Lai province, took a bus to HCM City. After spending a night at a friend's home, Ngoc went to the HCM City University of Technical Education the next morning to find out the necessary information. Ngoc said that after returning to the school, she would give the information she collected to her student.
"The teachers in our schools have to take the jobs of career advisers as well. However, no one has necessary documents and we still seriously lack the information to provide to our students, the students in a mountainous province," she said. "Our students cannot go to universities to look for the information themselves, so I have to go instead".
"For the past many years, students mostly get the careers information from teachers," she added.
Tran Viet Quoc, a teacher of An Ninh High School in Long An province, also said that both teachers and students did not have any information on careers. Highs school teachers do not know what majors are offered at universities and junior colleges. "Especially don't hae updates on the new subjects offered at universities," he said.
Quoc went on to say that most of the students here just read the book "Things to know about the enrolment to universities and junior colleges" published by the Ministry of Education and Training in order to choose which universities they wanted to enroll in and what careers they would choose in the future.
Teachers need to be trained first
The teachers, who take the job of careers advisers at high schools, say that the biggest problem for them is that they have not been trained in this field. Therefore, they can only provide students with the information they collect themselves from different sources.
Hoang Trong Vinh, a mathematics teacher of Chu Van An High School in Bien Hoa City of Dong Nai province also admitted that as he did not have knowledge in the field, and just gave the advice based on his own experience.
"Young teachers collect the information from their friends, who are new university graduates. Meanwhile, older teachers seek information from their relatives or children who have just taken the university entrance exams," he said.
Nguyen Thi Kim Sa, a teacher from Hau Nghia High school in Long An province admitted that teachers can only give general information.
Especially, according to Sa, giving career advice is not the main job of a teacher. The teachers are only trained to teach lessons in their subjects, not to give career advices.
Educators believe that what needs to be done now is to train teachers into professional career advisers.
Teacher Tran Viet Quoc said that teachers needed to take tripsto universities to find out the necessary information. Besides, it is necessary to provide teachers with the skills. They need to update the information about careers and the labour market
Phan Van Nhan, a teacher from Vo Truong Toan High School in Dong Nai said that the Ministry of Education and Training needed to provide a CD with the necessary information. The information will be useful for teachers in their jobs
Meanwhile, Le Quy Don High School in Quang Nam province believes that the career advising should be provided from the first to the 12th grade, not only in the 12th grade. the career advising plans should be thoroughly considered and discussed before they get the approval from the schools' management board
Source: Tuoi tre