VietNamNet Bridge – The Ministry of Education and Training (MOET) has decided to use mind map in a large scale to help renovate teaching method. The new method has been applauded by teachers, who believe this will help students escape from rote learning.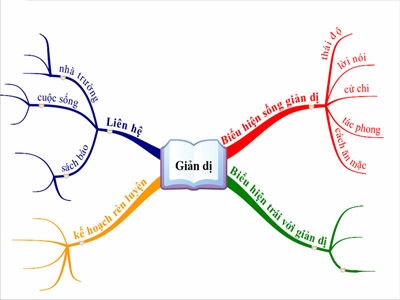 Mind map helps students remember knowledge
Lang Giang in Bac Giang province is a mountainous district, but the district's education and training sub-department is one of the first units in Vietnam which can access the mind map theory.
In 2009-2010, when Dr Dang Thi Thu Thuy, an officer of the Vietnam Education Research Institute introduced the teaching method with mind map, the Lang Giang district's education sub-department decided to apply the method in a trial basis at the Huong Son Secondary School.
After receiving positive feedback from the teachers and students of the school, the sub-department decided to apply mind map at all the 25 secondary and high schools in Lang Giang from the 2010-2011 academic year.
The teaching method with mind map has been welcomed at all the schools. Students and teachers all said that the teaching method is really effective.  It especially can help treat the rote learning.
"Teachers now like to use mind map in teaching. Students also say they can remember knowledge well if they themselves draw mind map for lessons," Dang Thieu Quang, Head of the Lang Giang district's education sub-department.
According to Nguyen Thi Thanh, Headmaster of the Huong Lac Secondary School, the biggest advantage of the new teaching method is that it is easy to be applied. Teachers just need black board and color chalk, while students just need white paper and pens with different colors. When asking students to create mind map, teachers can let them work personally or work in teams. Especially, mind map can be used for all subjects.
Mind map to be used widely in Vietnam
A mind map is a diagram used to represent words, ideas, tasks, or other items linked to and arranged around a central key word or idea. Mind maps are used to generate, structure, and classify ideas, and as an aid to studying and organizing information, solving problems and making decisions.
According to Dr Tran Dinh Chau, Director of the Secondary Education Project No 2, under the Ministry of Education and Training; the teaching with mind map has been popular all over the world. Using mind map allows to mobilize maximum potentials of the brain, help students learn actively, thus supporting the teaching method renovation.
Especially, the students who usually create mind maps would be able to develop their aesthetic sense, because they have to arrange lay-out for the maps with colors and lines, and they have to arrange ideas in the scientific and logical way.
After helping students get familiar with some existing mind maps, teachers can set up a topic and then raise questions which serve as the suggestions for students to create mind maps themselves. Students should be encouraged to create mind maps after every lesson which can help them more easily to review the knowledge when necessary.
Dr Chau and Dr Dang Thi Thu Thuy are the two first experts in Vietnam who popularize mind map method at general schools in Vietnam. The presentations of the two authors at the training course designed for key officers from 14 Northern provinces and cities got a lot of compliments.
Some teachers believe that the teaching method has been used by many teachers already, but just in a spontaneous way. However, MOET plans to apply the method at general schools nationwide. Other training courses will be organized in the time to come for the teachers in the southern and central regions.
TP