VietNamNet Bridge - In a recent market report, property services firm CBRE Viet Nam highlights the pain being felt in the Vietnamese economy, especially by real-estate developers and investors, as the State Bank of Viet Nam tries to combat inflation by limiting non-productive loans.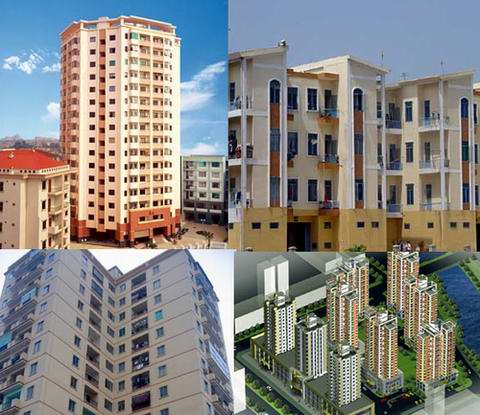 With demand falling short of supply, a proportion of developers and investors are beginning to experience cash flow issues, it says.
CBRE's head of research and consulting in HCM City, Adam Bury, says: "After years of lending to the real-estate market, the country is now at the point where the SBV is considering the consequences of this on the economy.
"Where capital is no longer available from Vietnamese banks, some within the real estate industry must find alternative methods of financing or appropriate exit strategies for some of their projects."
Marc Townsend, managing director of CBRE, is, however, upbeat: "The long-term potential for real estate remains bright despite any of the current issues. Viet Nam is still in the infancy of its growth.
"With a low level of urbanisation and an increasingly wealthy and young population, Viet Nam is well positioned for the future. The long-term potential for real estate, therefore, remains bright," Marc added.
The report cites two particular examples – industrial production and tourism.
The country is becoming a home for manufacturing and exporters who are looking to capitalise on skilled but relatively cheap labour. This is providing a genuine China+1 opportunity for companies who are looking to diversify risk. The strength of the Vietnamese industrial market is such that at the end of 2010, there were over 180 industrial parks, with another 80 under planning. With the opportunity in the industrial market, it is likely that continued investment into the sector will be seen.
The tourism market is another excellent growth opportunity for Viet Nam, which could be described as a "Thailand+1" scenario. Developers, hotel operators and others in the sector have the ability to take advantage of a country with a rich history, plethora of geographically diverse destinations and a growing number of visitors. Last year saw a 19.2 per cent rise in international visitor numbers to HCM City.
With infrastructure improving – such as the new international airport in Da Lat that is already open and the improvements that are being made to Da Nang International Airport – it is likely that tourism numbers will continue to increase for years to come.
Bury, however, notes that openings for new entrants or for those looking to expand their existing real estate operations have been few and far between in the past couple of years.
In a market dominated by close personal connections, he believes that the next 12 months will provide fresh chances for well-priced opportunistic plays.
"Historically, opportunities for direct real-estate investment have often appeared over-priced, limiting the amount of transactional investment activity in the market.
"With the current tightening of credit for developers and investors, we believe that the next year may present well-priced prospects for investors looking to tap into Viet Nam's growth potential.
"In addition, the increasing sophistication of some Vietnamese developers and the small amount of international funds already provide a realistic indirect investment possibility."
With the country's economic growth set to continue, there is notable long-term demand for real estate, he reveals.
Any pain that the property industry is feeling is therefore a consequence of the immaturity of the market and the cycles that are evident in any property market, he says.
Draft decree drives gold price
World gold prices fell almost US$18 per ounce last Thursday, but in Viet Nam they have remained high. The reason – the draft decree on bullion gold trading that was unveiled by the State Bank of Viet Nam last week.
Gold trading companies like PNJ, SBJ and SJC all reported increased trade. "As people's worries on gold bullion trading limits lifted, the market warmed up immediately," said Nguyen Thi Cuc, deputy general director of PNJ.
The decree, which will guide management of gold bullion trading if approved by the Government, allows investors to both buy and sell gold from banks and authorised businesses.
The bank had been toying with the idea of allowing people to sell gold bullion but not buy.
Now people can buy gold for investment purposes but no longer use it as a means of payment.
The central bank is, however, set to slap other restrictions – the number of institutions allowed to trade bullion will be reduced through stringent capital, revenue and network conditions.
Gold jewellery trading will also become contingent on factors like business location and the availability of facilities and equipment.
There are now around 10,000 gold shops, most of whom are also involved in making jewellery.
Nguyen Thanh Long, general director of SJC, the country's largest bullion producer and trader, complained that the draft did not spell out the conditions to be fulfilled, like capital and the revenue, for a bullion trading licence.
"Other open questions include who will be eligible for gold import and bullion trading," he said.
He agreed, nevertheless, that the draft has relieved people's fears.
He wanted the Ministry of Industry and Trade to join the central bank in managing the jewellery industry to better pilot its growth.
He also wanted the much-awaited gold exchange to be set up soon to hedge risks.
Keeping an eye on State firms
A regulation on monitoring State-owned firms' finances, which has been drafted and will be sent to the Government for approval, will take effect in the third quarter, the Ministry of Finance's Corporate Finance Department says.
The regulation, on which opinions are being solicited from concerned parties, will evaluate the firms' actual performance and increase their accountability in managing capital and other assets.
These institutions currently own around 70 per cent of the country's fixed assets and account for 60 per cent of the State's investment. They also utilise 70 per cent of ODA funds.
Areas that will be covered under the new regulation include business projects as well as portfolio investments, debt management and repayment, capital preservation and growth, and return on State-owned capital.
Firms in which the State does not have a majority stake will be accountable for fluctuations in chartered capital, business projects and transfer of high-value assets.
Special financial monitoring will be undertaken of firms in poor financial shape – described as that suffer losses and have debts three times their capital or losses equivalent to 30 per cent of their capital.
Other firms to come under this category are those violating reserve regulations and falsifying accounts.
More than 20 groups and corporations will be covered by the new regulation. They include the Electricity of Viet Nam, PetroVietnam, Viet Nam Textile and Garment Group, Vietnam Airlines and State Capital Investment Corporation.
Source: VNS