VietNamNet Bridge – Farm produce prices have been escalating every day, and the common reason behind all the price increases is the high demand from China, which has prompted Chinese businessmen to come to every corner to collect materials.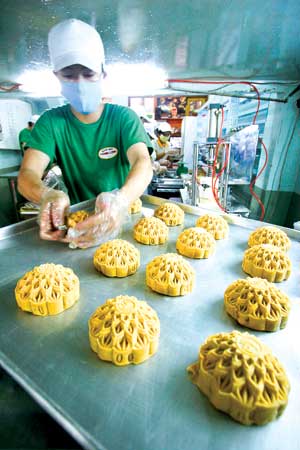 As the mid-autumn festival is nearing, enterprises are racing to collect materials for the moon cake production season. However, it is not easy to collect materials at this moment, because they have to compete with Chinese businessmen, who have come to Vietnam also to collect materials for making moon cakes.
The high demand from China has pushed the prices of main kinds of materials in Vietnam up. The prices of salted duck eggs, for example, have increased dramatically by 40 percent, while normal eggs by 30 percent. The prices of green bean have increased by 15 percent; and coconut first extract by 100 percent.
Pham Ngoc Thuy, the owner of Thanh Long Moon Cake workshop, said that she has been moving heaven and earth these days to purchase salted eggs. However, all the egg providers in district 5 in HCM City all told her that the supply is short and they have to raise the sale prices. A salted egg was sold at 3000 dong last year, but is selling at 5000 dong now.
Thuy complains that the input material prices all have increased dramatically, while the demand has been forecast to be low due to the high inflation which forces people to tighten their belt.
"I feel worried about my business," she said. "If I wait some more time and will only collect materials in some more days, the material prices would be higher by 30-50 percent than now. Meanwhile, it is too risky to borrow money from banks to store up materials".
The problem is that the bank loan interest rates remain overly high which is unaffordable for small enterprises.
Thuy said that whatever she does, the production costs would be 15 percent higher than that of the previous year. Meanwhile, it is impossible to store fresh materials like eggs, fruit jam and chicken for a long time.
"To date, Thanh Long still has not found any solutions for the material problem this production season," she complained.
Some big moon cake producers in HCM City have also estimated that with the current input material price increases, the moon cake prices would increase by 30 percent.
Meanwhile, the prices of animal feed have increased ten times since the beginning of the year by 25 percent in total, while the prices are forecast to keep rising in upcoming months.
Vietnam now has to import 60-70 percent of the animal feed it needs, but it sells 1.5-2 million tons of cassava to China at low prices every year.
Three months ago, Chamnan, Deputy General Director of CP Company, said that the cassava supply was profuse, but has become scarce. He has realized that the supply has become shorter, while the prices have been increasing because Chinese businessmen have been present in Vietnam to collect cassava, thus pushing the prices up to 7000 dong per kilo. Meanwhile, the prices were 2000 dong per kilo last year.
Since the prices have been escalating, and the supply has become short, CP and many other companies have to use wheat imported from India instead.
Chinese businessmen prove to be redoubtable rivals for Vietnamese businesses. When the pepper price stayed at 105,000 dong per kilo, on June 13, a Chinese businessman accepted to pay 109,000 dong and collected 35 tons at once from the Thiet Ha Farm Produce Company in Dak Nong.
"They, a Chinese businessman and an interpreter, came to our company, saw the product sample, negotiated the prices and paid money immediately," said Pham Thanh Thiet from Thiet Ha.
"We only sell products and get money, while they (Chinese businessmen) bring the products away themselves," Thiet said, adding that the appearance of Chinese businessmen brings benefits to farmers, but put big difficulties for domestic enterprises.
SGTT