VietNamNet Bridge - Vietnam is hoarding between 460 and 1,000 tons of gold worth around US$21 to $45 billion, second only to India, according to figures released last week.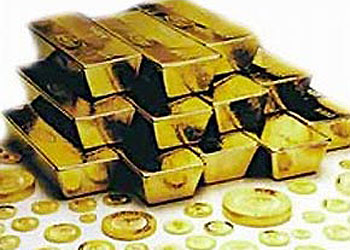 The figures take into account gold held by the people and stored at banks.
The data were released during the conference in Hanoi themed "The effect of the gold market on financial market in Vietnam" held by the National Financial Supervisory Commission, as reported by Sai Gon Tiep Thi.
The World Gold Council ranks Vietnam as among 5 countries with the largest gold hoarding in the world, second after India. Vietnam's gold takes up 23-29.5% of the world's total gold during the past 5 years.
Vietnam is among the top 20 countries that buy the most gold jewelries (20 tons per year). Such a high consumption rate has been maintained for the past many years, reported the GFMS gold company during the conference.
Such a high gold hoarding is blamed for exacerbating the dollarization situation in Vietnam, opined some experts.
At the conference, experts suggested abolishing quotas on gold imports and exports, which is attributed to widening the discrepancy between domestic and international gold prices.
Some suggested setting up a "national gold trading floor", to be supervised by the State Bank of Vietnam. This they said would make the gold market in Vietnam more transparent and help reduce price discrepancies.
The State Bank of Vietnam, the country's central bank, has proposed the government ban the trading in gold bullion.
The central bank in April also asked commercial banks to cease lending gold in May and stop accepting gold deposits two years from now.
The new rule is an attempt to eliminate the role of gold as a means of payment in Vietnam. It noted that the government will continue to recognize the right of citizens to store gold.
In related news, Vietnam is Switzerland's single largest source of imported gold products since 2009, the Financial Times recently reported.
Vietnam spent $878 million to import 19.2 tons of gold in the first quarter of this year, up 28 percent in value and 2 percent in volume year on year, according to a recent report from World Gold Council.
Vietnam's year-on-year demand for gold jewelry and gold bullions for investment has increased by 7 percent to 5.5 tons and 1 percent to 14.2 tons respectively in Q1/2011.
Source: Tuoi Tre/SGTT