VietNamNet Bridge – In many cases, using Chinese contractors is the only choice for Vietnam, because it uses Chinese loans for the projects. And if problems are found where Chinese enterprises are EPC contractors, Vietnamese investors have no other choice than "swallowing the bitter pill".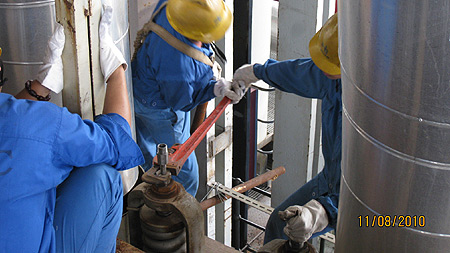 China as big lender to Vietnam
China has never been listed among the big ODA (official development assistance) providers to Vietnam, and it has never been listed in the top 10 of foreign direct investors in Vietnam.
Over the last 20 years, China has made only $3.184 billion worth of foreign direct investment (FDI) in Vietnam, ranking 14th among the 92 foreign investors in the country. In 2010, China ranked 11th with the total investment capital of $364.6 million, accounting for just one percent of the year's total FDI.
However, in fact, Chinese capital invested in Vietnam so far proves to be not small. There have been no official statistics about the Chinese capital flow, but it is clear that low-interest rate loans sourced from China have been used in many industries in Vietnam, especially from China Eximbank.
Four out of nine power projects developed by the Vietnam Coal and Mineral Industries Group (Vinacomin) use loans from China. These include Cao Ngan, Son Dong, Cam Pha and Mao Khe projects.
The power projects developed by the Electricity of Vietnam have also been using loans sourced from China, including Quang Ninh 1 and Quang Ninh 2, Hai Phong 1 and Hai Phong 2 and the expanded Uong Bi thermopower plant.
Most recently, on December 18, 2010, the Ministry of Finance signed an agreement on the loans worth $300 million from China Eximbank which will be used for the Vinh Tan power plant project.
Chinese capital has been used not only in power sector. The loans from Eximbank have also been present in key projects in other sectors. Vinachem is using $500 million worth of Chinese capital for a fertilizer production project, and the Vietnam Plastics Corporation is also using the preferential loan worth 50 million yuan.
The dilemma
According to an official from the Ministry of Industry and Trade, Chinese contractors understand that the weak point of Vietnamese investors is the lack of capital. Therefore, they help Vietnam arrange capital, and in return, Vietnam has to use Chinese contractors.
The offer proves to be too attractive to refuse, and, as the result, Vietnam has to use Chinese contractors, machines and equipments, even though it knows that Chinese technologies are much worse than G7 countries' technologies.
In other words, every medal has two sides. While Vietnamese investors can borrow cheap loans from China, they have to use the low-quality Chinese technologies.
Chinese banks, which consider the applications for loans, have the right to examine the technical requirements of the projects to see if they are suitable for Chinese contractors. In many cases, they demand to lower the technical requirements, or they would refuse to provide loans.
Insiders are aware what the consequences are of using low-quality technologies. Vietnamese supervisors used to refuse to  the low-quality equipments, but now they have to let the low-quality "get through". Otherwise, the capital disbursement would have been stopped.
That explains why Cao Ngan thermopower plant, though having been operational for a period of time already, still meets a lot of troubles and it needs further repair.
The Ministry of Industry and Trade says that it is necessary to strengthen  the quality supervision of Chinese equipments. However, it is clear that with the above barriers, this will be a difficult job.
Pham Huyen