VietNamNet Bridge – Making materials domestically instead of importing materials for domestic footwear production has always been a hot topic on economic forums. However, it has become more burning than ever, when Vietnam is conducting negotiations for the Trans-Pacific Partnership (TPP) agreement.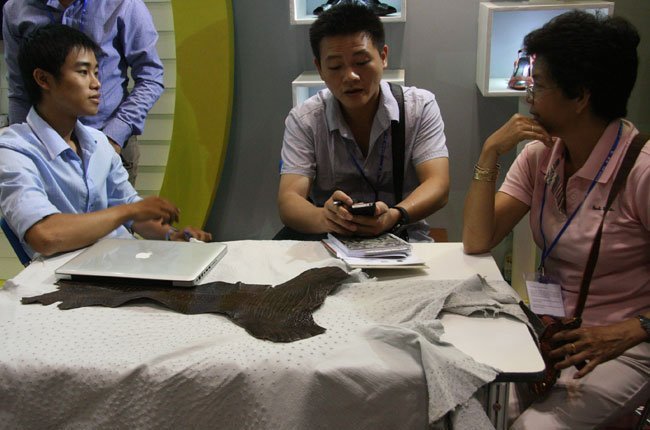 Vietnam is making every effort to be able to enjoy the preferential tariff for its footwear exports under the framework of TPP, once the agreement is signed, because footwear is a very important industry of Vietnam which brings high export turnover and create jobs.
Making footwear products with domestically made materials is one of the main requirements Vietnam has to satisfy in order to enjoy the preferential tariffs. Meanwhile, it is really a really difficult task for Vietnam.
Nguyen Duc Thuan. Chair of the Vietnam Association of Leather, Footwear and Handbag also warned at the conference of the footwear enterprises held in HCM City on July 19 that once TPP agreement is signed, there would be the provisions on the compulsory percentages of locally made contents in footwear products. Preferential tariffs for the TPP's members would be applied only to the products with reasonable localization ratios.
Thuan also warned that this is really a big challenge for the Vietnam's industry, emphasizing that it's necessary to gather the strength of the member companies in the industry in order to make materials domestically to take full advantages of the low tariffs under TPP.
Also according to Thuan, the tanned leather output in Vietnam has been increasing rapidly over the last few years by 260 percent in the period from 2007 to 2011.
Vietnam made out 113 million sq. ft. (over 10 million square meters) in 2007, while the figure soared to 312 million sq. ft. (29 million square meters) in 2011.
However, Thuan said, the localization ratios in footwear and handbags remain very low at roughly 40 percent.
Meanwhile, producers said that enterprises have not been encouraged enough to make investment in the footwear material workshops. There has been no policy on the tax incentives or preferential loans and the regulations to ensure the outlets of products. Therefore, enterprises dare not make heavy investments to make products competitive to Chinese materials.
According to Le Quang Doan, General Director of Minh Dieu Production and Trade Company, which specializes in making soles for shoes, said the most important thing Vietnamese enterprises need to do is making the materials competitive enough to defeat Chinese products, which are now still dominating the market thanks to low prices.
At present, shoe makers still prefer importing soles from China which have very low declared import prices. However, if Vietnamese enterprises use China sourced materials, a country which is not a member of TPP, to make shoes, the products would not be able to enjoy the preferential tariffs when they enter the TPP's markets, including the US.
Tuan has also pointed out another big problem of the Vietnam's footwear industry. The labor cost in the Vietnam's footwear industry is equal to that of Indonesia and India, and lower by 25-30 percent than China. However, the labor productivity in Vietnam is 20-30 percent lower than China.
Some foreign invested enterprises in Vietnam have successfully increased their productivity by 30 percent over the last three years, while Vietnamese enterprises still could to do that.
Therefore, experts have advised enterprises to improve the material supply and labor management, and to improve technologies to increase the productivity to retain laborers. He emphasized that this is an urgent task, especially when enterprises find it hard to predict the labor cost in the next five years, and the subsidization mechanism in the electricity pricing would be removed.
Compiled by Thanh Mai