VietNamNet Bridge - It is hard not be struck from the moment one arrives in Vietnam that this is one of the most entrepreneurial countries in the world.  Small businesses are thriving in shops, sidewalks and alleyways throughout Vietnam.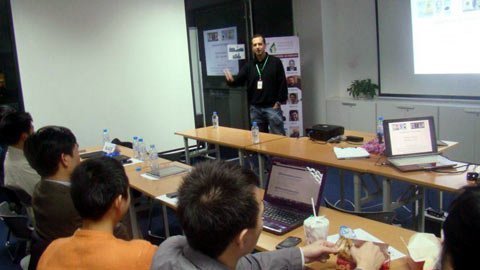 Prof. Michael Goldberg at a seminar held at the Founder Institute.
I was honored to be awarded a Fulbright fellowship to teach entrepreneurship at the National Economics University (NEU) in Hanoi. The Fulbright Program is the flagship international educational exchange program sponsored by the U.S. government and is designed to increase mutual understanding between the people of the United States and the people of other countries.  
In the United States, I am a professor at the Weatherhead School of Management at Case Western Reserve University in Cleveland, Ohio.  In addition to teaching, I also am a managing partner of a venture capital fund that invests in early stage medical device companies.
I came to Hanoi in January 2012 with my wife Stacy who is a marketing director at a NGO in Cleveland and our three children ages 9, 7 and 6.
I am primarily teaching Vietnamese students in the NEU Business School's English Bachelor of Business Administration (E-BBA) program.  
I had the opportunity to co-teach a course on entrepreneurship and new venture creation with Mr. Ha Tung, a talented Vietnamese lecturer.
It was a great experience designing a course alongside a Vietnamese professor as we were able to incorporate points of view and practical experience from the US and Vietnam into the syllabus.  
My teaching style tends to be very interactive and I typically invite guest speakers to visit the classroom to share with students a realistic view of starting and financing a start-up company.
We had some excellent guest speakers in the class including Do Tuan Anh, CEO of Appstore.vn, Simon Andrews, IFC Regional Manager, Duc Tran, General Partner, IDG Vietnam Ventures and Ryan Galloway, Vice President, Strategy, MobiVi.  These speakers shared their own experiences of working with start-up companies and how the practical reality of running a company seldom looks like the proposed business plan.  
"Dream big"
Although Vietnam is incredibly entrepreneurial, many business people in Vietnam are afraid to fail.  Thus, often times Vietnamese entrepreneurs do not take as many risks with their business as their counterparts in other countries.  We also tried and push our Vietnamese students to "dream big" when they think about starting companies.  
We asked our students to write a business plan as part of their work for the course and some of the students came up with ideas for a restaurant or handicrafts shop in Hanoi.  We told the students that the last thing Hanoi needed was a new restaurant or handicraft shop.  We challenged them to explore coming up with ideas for technology-based businesses that have high growth potential that can serve traditional businesses.  
It is typical for my entrepreneurship students in the US to come up with ideas for start-up companies that have the possibility for significant growth.  The vast majority of these business ideas will fail but it is important for Vietnamese students to think about starting businesses with huge potential as these are the businesses that will help the economy here continue to grow.
For those Vietnamese entrepreneurs that are creating new growth-oriented companies, raising capital from investors outside of their family members remains challenging.  There are some excellent venture capital firms in Vietnam such as IDG Vietnam Ventures and DFJ Vinacap but relative to other markets, the aggregate amount of venture capital available here is somewhat limited.  
There are several efforts underway in Vietnam to try and encourage local Vietnamese high net-worth individuals called "angel investors" to invest in Vietnamese start-up companies but those efforts will take time.  Other efforts such as the Founder Institute program to provide mentorship to entrepreneurs and provide them with access to capital provide Vietnamese entrepreneurs additional opportunities to grow their businesses.  
I have served as a mentor in the Founder Institute program to start-up companies in Vietnam and continue to help advise a number of exciting companies that I met through this program.  
I will be returning to United States this summer and will be teaching a new course at Case Western Reserve in the fall exploring trends in Asian Venture Capital which will focus primarily on entrepreneurs and investment opportunities in Vietnam.  
I plan on continuing to build upon the relationships I have developed in Vietnam and hope to find ways to support the growth of entrepreneurship and innovation in Vietnam in the future.
Prof. Michael Goldberg
(Professor at the Weatherhead School of Management at Case Western Reserve University in Cleveland, Ohio, a Fulbright fellowship scholar in Vietnam)