All farm product exports to EU to undergo safety check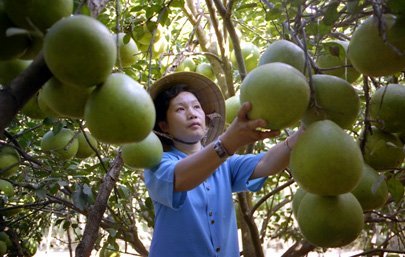 The Plant Protection Department under the Ministry of Agriculture and Rural Development said it would check 100% of agro-product shipments to the European Union (EU) in the coming time.
The new move may be part of the draft circular on food safety inspection and plant quarantine of exports to EU that will go before the agriculture ministry soon. The official circular is set to be issued after May 15.
The department since early March has minimized the issuance of quarantine certificates to those enterprises involved in farm produce exports bound for the European market. Now the more stringent rule is to come out to cope with EU's tough penalty insisting on banning agro-product imports from Vietnam if two more cases violating its food safety regulation are detected.
Most local shipments found violating the EU food safety standards are aromatic herbs and star fruits infected with pests. The importers, meanwhile, reject Vietnam's solution to treat such products with chemicals, said deputy head Bui Si Doanh of the department.
The problem is that Vietnam cannot set up non-disease areas to plant farm produce for the EU market as requested, Doanh noted. Therefore, the most optimal solution for the nation is to apply a 100% check on shipments and prioritize farming areas meeting the VietGap and GlobalGap standards, he added.
Speaking to the Daily, Nguyen Minh Chau, director of the Southern Fruit Research Institute, pointed out what EU nations were concerned about Vietnamese products are plant protection drug residues.
"It is necessary for the country to check 100% of fruits and vegetables to EU at present but it should adopt a sustainable solution in the long run," Chau stressed.
According to the Vietnam Fruit Association (Vinafruit), the nation in the first four months of the year fetched US$150 million from shipping agro-products abroad, equivalent to the same period last year.
Due to difficulties in farm product exports, An Giang Fruit-Vegetables and Foodstuff JSC (Antesco) has shifted to exporting processed products, said the firm's director Huynh Quang Dau.
Gas stations cut petrol price by 2 cents per litre
The retail price of A92 gasoline was cut by VND500 (US 2 cents) to VND23,300 (US$1.12) per litre at 10pm yesterday.
Diesel was slashed by VND300 to VND21,600 ($1.04) per litre.
Minister of Finance Vuong Dinh Hue affirmed the move, noting that the prices of kerosene and mazut remained unchanged at VND21,400 ($1.03) and VND19,200 ($0,92) per litre, respectively.
Hue said the decision to cut prices, which aimed to assist production, business activities and people's lives, was made after representatives from the finance and industry and trade ministries and Government officials met yesterday afternoon.
This is the first petrol price reduction this year, after prices were raised twice in March and April to help petrol enterprises cut losses in the face of global price hikes, with a total increase of up to VND3,000 (14 cents) per litre.
World petrol prices began to ease from the latest domestic price adjustment on April 20.
According to the Viet Nam National Petroleum Group (Petrolimex), the price of Ron 92 gasoline in Singapore — a major market for Viet Nam's petrol exports — declined to $121.6 per barrel yesterday, a fall of 5 per cent from the price on April 20.
Profits take toll on City shares
Shares on the HCM City Stock Exchange finished yesterday's session down slightly as investors fearing a correction moved to nail down profits. Meanwhile, share prices continued to advance on the Ha Noi bourse.
On the HCM City Stock exchange, the benchmark VN-Index lost 0.09 per cent to close at 487.62 points – despite gainers outnumbered decliners by 159-108.
The value of trades declined 18 per cent from Tuesday's level, totalling almost VND1.83 billion (US$87.1 million), while volume declined 14 per cent to 114 million shares.
The VN30-Index, which tracks the 30 leading shares by market capitalisation and liquidity, closed nearly unchanged at 557.35 points, with only eight codes in this group rallying. Of these real estate developer Hoang Anh Gia Lai (HAG), seafood processor Hung Vuong Corp (HVG), Sacombank (STB) and Sacombank Securities Co (SBS) rose to their ceiling prices.
Bao Viet Securities Co analyst Nguyen Xuan Binh said that some leading stocks were holding on to their upward momentum, but a good many shares were facing heavy profit-taking pressure.
"It should be considered a short-term warning sign for investors after a long rally," Binh wrote in a reseach note. "In addition, the market may experience a 'lacking support' phase in coming sessions now that the most significant news has been released."
Withouth positive news yesterday, Viet Nam Electricity Construction Corp (VNE) surprised as the most-active share on the HCM City board, on a volume of 5.4 million shares. VNE rose 2.27 per cent to settle at VND9,000 per share.
On the Ha Noi Stock Exchange, the HNX-Index closed up by 0.14 per cent to 83.76 points with 176 codes rallying and 120 declining. Both volume and value dropped by around 31 per cent to 86.5 million shares, worth a total of nearly VND986 billion ($47 million).
Habubank (HBB) was again the most-active share, with 5.16 million shares changing hands, even as its share price declined by 2.3 per cent to VND6,600.
Foreign investors remained net buyers on the HCM City bourse, picking up another VND34.7 billion ($1.7 million) worth of shares, but they turned to net sellers on the Ha Noi market, unloading shares worth a net of over VND10 billion ($485,000).
Pharmaceutical fair opens in Hanoi
More than 350 enterprises from 27 countries are attending the Vietnam Medi-Pharm 2012 exhibition, which opened in Hanoi on May 9.  
450 stands showcase pharmaceutical materials, equipment and high-tech products.
Seminars on medical treatment, including small invasive treatment for phantom tumours and stem cell therapy are also held as part of the event.
Vietnam attends BATIMATEC 2012 in Algeria
Vietnam's Viglacera Corporation took part in the 15th international construction, building materials and public works exhibition BATIMATEC 2012 in Algeria from May 3-7.
Its stall showcasing sanitary ware, ceramic tiles, construction glass, and clay bricks has attracted many visitors.  
The event this year attracted 1,032 companies, consisting of 488 foreign businesses, covering an area of 44,000 square metres.
Commercial Counsellor of the Vietnamese Embassy in Algeria, Nguyen Van Mui, said Algeria is a potential market for many countries, including Vietnam, in the field of construction and building materials.
For its five-year socio-economic development programme (2010-2014), the Algerian Government has allocated US$286 billion, including US$100 billion to be spent on building new 2 million apartments, 5,000 schools, 172 hospitals and 35 dams, he said.
This is a good opportunity for Vietnamese businesses to export building products to Algeria, Mr Mui added.
Vietnam-Algeria trade turnover in the first quarter of 2012 reached US$53.5 million, up 67 percent compared to the same period last year.
Seminar seeks ways to develop organic vegetables
The development of eco-friendly agriculture and ways to boost the production of organic vegetables were the major topics of a seminar held in Hanoi on May 8.
The seminar was jointly held by the Vietnam Farmers' Association (VFA) and the Asian Farmers' Association for Sustainable Rural Development.
At the event, VFA Vice President Ha Phuc Mich said organic agriculture is seen as the most effective way to ensure sustainability of the ecosystem, and organic vegetables are a sought-after agricultural product.
Delegates stressed the increasing consumption trend of organic vegetables worldwide, especially in developing countries, thanks to their benefits to human health and the environment.
They also discussed a broad range of issues regarding the production of organic vegetables in Vietnam such as differences between the production of organic vegetables and their chemically grown counterparts, the role of businesses in this field, impact of urbanisation, food prices and climate change on production as well as opportunities and prospects for the development of organic vegetables.
While pointing out challenges facing Vietnamese farmers, delegates proposed measures to help the country develop production models for organic vegetables.
HSBC announces new manufacturing index in Vietnam
HSBC Vietnam on May 8 announced for the first time the Manufacturing Purchasing Managers' Index (PMI) in Vietnam – an early indication of manufacturing sector operating conditions in the country.
PMIs are essential data for economic analysts, financial market players and other decision makers such as central banks that require early indicators of changing market conditions when setting interest rates.
The HSBC Vietnam Manufacturing PMI is based on data compiled from monthly replies to questionnaires sent to purchasing executives in around 400 manufacturing companies.
It is a composite index based on five individual indexes: new orders, output, employment, suppliers' delivery times, and stock of items purchased. Readings above 50.0 signal an increase in business activity on the previous month while readings below 50.0 show a reduction in activity.
According to the survey, Vietnam's PMI in April 2012 was at 49.5, down from 50.0 in March, signaling an overall worsening of business conditions during the month.
However, manufacturers reported an overall increase in new business levels for the first time since November 2011.
Stronger export demand was the primary source of growth in April, as highlighted by a third successive monthly improvement in new business intakes from abroad.
Moreover, data pointed to the fastest overall increase in Vietnamese manufacturing new export orders since the survey began in April 2011.
According to the HSBC forecast, Vietnam will achieve a GDP growth of 5.1 percent in 2012, its consumer price index will be 7.2 percent, its year-end interest rate will be 10 percent and the VND/US$ exchange rate will be VND21,500.
HSBC Vietnam CEO Sumit Dutta said Vietnam is one of the world's fastest-developing economies and the country maintains its strong growth based on its educational and infrastructural developments and systematic reforms.
"PMI survey data in the manufacturing industries provide a timely and useful insight into producers' developments. We believe investors will use this index to make optimal strategic decisions," said Sumit Dutta.
Vietnamese businesses keen on Myanmar market
Vietnamese products are displayed in Myanmar
A seminar introducing the Myanmar market was held on May 8 by the Ho Chi Minh City Business Association to help support Vietnamese businesses effectively exploit this regional market.
Reports presented at the seminar provided information on the economics, trade and potential of the Myanmar market as well as opportunities for penetration and ways to seek investment partners.
The Honourable Consul General of Myanmar in HCM City said that foreign investors currently see Myanmar as an attractive market as the country begins to open its doors and gain international integrity.
Vietnamese businesses can find investment opportunities in some areas of the market such as developing industrial parks, aquaculture, forestation, and rubber plantations.
Myanmar has a high demand for developing electricity, telecommunications, and automobile repair and the country imports large volumes of goods because domestic production only meets 20 percent of the local consumer demand.
According to economic experts, while traditional export markets such as Japan, the US and the EU are in a slump, Asian markets such Myanmar, Laos and Cambodia are becoming an increasingly attractive potential market for Vietnamese businesses.
However, when dealing Myanmar, businesses must carefully consider its investment and trade policies, which require foreign investors to set up links and joint ventures with domestic businesses, as well as complex administrative mechanisms and time-consuming procedures.
The experts also said that Vietnamese import - export businesses should choose strategic products that will enable them to compete with products from China and Thailand.
Fuel firms earn big as import prices slump
With fuel prices on the global market continuing their downward trend, import prices from Singapore, Vietnam's main fuel source, have also slumped, creating huge profits for local wholesalers.
WTI crude oil for June delivery yesterday settled around US$97-98 a barrel in the US, remaining under the $100 mark since last weekend.
Brent crude oil also revolved around $112-113 a barrel, while the average figure in April was $120.4 a barrel.
Meanwhile in Singapore, A92 gasoline was imported at only $123.73 a barrel on the May 4 session, down by $7.63 a barrel compared to April's average rate.
Similarly, the diesel oil import price dropped to $130.3 from $135 a barrel, while kerosene also slumped to $128.8 a barrel.
Consequently, local fuel importers have enjoyed high profits.
Input cost for A92 gasoline is now around VND22,200 a liter, while the retail price currently stands at VND23,800 a liter, which means a VND1,600 per liter profit.
Fuel experts said wholesalers have reaped profits of VND1,200-1,300 a liter over the last ten days.
Long-term plans needed to support local businesses
Economist Pham Chi Lan has recommended some policies to be adopted for sustainable long-term development after the government announced the aid package for local businesses.
The adoption will help local firms to be more confident in doing business as the situation in 2013 and the coming years may get tougher, she said.
"Many experts, including me, mentioned reduction in corporate income tax in the workshop held by the Economic Committee of the National Assembly in the central city of Da Nang last month, under the chairmanship of National Assembly (NA) Deputy Chairman Nguyen Thi Kim Ngan."
"Ngan showed that she listened to our advice."
"The package offers many solutions, including tools on credit and tax breaks, as well as some relief for the costs of land lease."
What is good about the package is that it is aimed at small and medium enterprises (SMEs), not a widespread support scheme like the ones in 2008-2009.
However, its timing is a little bit slow as too many companies are already beleaguered with insurmountable hardships.
"I still expect those solutions to be viewed for long-term rather than just temporary implication as we have only extended the value added tax (VAT), and corporate income tax (CIT) for only some months."
Regarding the CIT, Lan said it should be cut further since it is still high, at 25 percent, compared to the ASEAN regional rate of 17 percent. Such high tax rate has reduced the competitiveness of Vietnamese enterprises significantly.
For local businesses to effectively plan their long-term business prospect, they cannot just depend on short-term support policies announced by the Government.
Currently, there is no guarantee that everything will progress smoothly, or the local economic recovery process will be sustainable, so they can map out long-term business plans.
"We encourage companies to do business in the long term, but all the government measures, including the relief package, are only short-term in nature, making it impossible for them to make medium- or long-term business plans."
Asked to elaborate on her recommendations for long-term solutions, Lan gave Tuoi Tre the big picture.
"Actually, the difficulties facing businesses at the moment are mostly problems inherent in the local economy that has accumulated over the years from 2008 to date; they're not new problems."
"Meanwhile, the global economic conditions and domestic situation are getting complicated."
"As a result, the VND29 trillion package the government has just announced will only help relieve some of their difficulties in 2012. How about next year in 2013, when the common problems of the economy are still there?"
"Specifically, how the economic restructuring process will be conducted and how drastically it will be done to bring about long-term sustainability are the main concerns."
"If unsuccessful, enterprises would still struggle to access credit in the face of excessively high interest rates and sky-high inflation in the coming time."
"Thus, there are many factors that make businesses and people really uncomfortable, while the current reliefs are only for immediate effects."
Regarding some experts' suggestions that when the aid package is submitted to the NA for final approval, the NA should ask the government to consider more effective solutions, Lan said she too hoped the NA could pressure the government to offer more adequate support to the businesses to help them overcome the difficult times.
Compared to the VND100 trillion excess tax revenue in 2011, the VND9 trillion tax breaks offered to local enterprises, which will result in the same loss for the state budget in 2012, the amount is just a dwarf, Lan said.
In recent years, the budget gets an estimated VND100 trillion tax revenue surplus per year.
There is still ample room for stronger relief packages that the NA should consider.
"The NA is responsible for making tax policies, so I sincerely hope they will propose and pass a CIT reduction of 20 percent in the coming session."
After the Government announced the aid package, the Ministry of Finance said hundreds of thousands of businesses will benefit from the package regardless of the conditions of their "health."
Regarding the VAT deferral, Vu Nhu Thang, director of the Institute of Financial Strategies and Policies, emphasized that about 400,000 enterprises, mostly SMEs, labor-intensive enterprises, and those operating in the lottery business, real estate, securities, finance, banking, and insurance, will enjoy the tax breaks.
The Ministry of Finance has calculated some VND4.1 trillion VAT will be delayed every month, so companies will have more working capital for business.
Besides, a series of measures, including tax deferral, reduction and exemption, accelerated disbursement of VND180 trillion of investment capital for business development from the state budget plus VND45 trillion of Government bonds in 2012 will boost the demand for stockpiling products, such as iron, steel, and cement.
Old mini gas cylinders: bombs awaiting explosion
Despite the recent fatal explosions caused by using old, poor quality, and illegally extracted mini gas cylinders, the trading and using of these products are still going on.
Each of the millions of mini cylinders of dubious quality that is still circulated on the market on a daily basis is a bomb that can go off anytime, while authorities seem unable to control their use.
"Never mind," Xuan Quynh, a student renting a house at the university village in Ho Chi Minh City's Thu District assures a Tuoi Tre reporter when her room fills with the smell from a leaking gas mini cylinder.
Quynh says that using the cylinder is very convenient, and all of her roommates do the same.
"We consume three cylinder a week, and exchanging for a new one costs only VND6,000 (US$0.2)," she says.
"Almost all students use mini gas cooker as it's economical.
"Only those who are well-off can afford bigger cylinders."
Le Dinh Tan, a worker at a Binh Duong-based industrial park, says he was almost killed by an explosion caused by mini gas cooker while attending a party.
"They said once bitten, twice shy yet I still have to use this type of cooker as my income cannot afford a better one," admits Tan.
Other consumers of the mini gas cookers are eateries and restaurant in the city's outskirts, and the reason for their use is nothing other than its low cost.
"Each mini cylinder can be used to cook two hotpots, while using a new one will increase expenses by four times," reveals Hung, owner of an eatery in Binh Tan District.
It is not difficult to find a grocery store offering to exchange mini gas cylinders in alleys around HCMC and neighboring localities, especially in areas with many students and workers.
Cylinders used in these stores are old, and have been extracted many times. Some are even rusted.
And for those exchangers, there is nothing to hide about the service, as all are operating behind signs that read "Exchange mini cylinder here."
"I exchange around 20 cylinders every day, mostly to students," Nguyen Thi Loan, who runs a grocery store in the university village, tells a Tuoi Tre reporter.
"The cost price is VND5,000 each, and I sell them for VND7,000."
 Meanwhile, Hung says he has 100 cylinders delivered right to his eatery every three days at VND4,000 each.
"I have no idea where they extract gas for the cylinder.
"I always choose those that look a little new for assurance.
"They even persuaded me to buy the equipment kit to extract the gas myself for VND400,000," he says.
Nguyen Kha, deputy head of the technology department of Gas Saigon Petro, says mini gas cylinders are designed to endure pressure of 3-5kg/cm2 of butane air.
However, most of the old cylinders are filled with gas from 12kg or 45kg cylinders, which have three times higher pressure than those specialized for use in mini cylinders, he adds.
"The cylinders will pose high risk of explosion if they are rusted or deformed," he warns.
A market management officer admits to Tuoi Tre that his agency cannot fully curb the phenomenon of illegally extracting gas.
"The extraction is done mostly inside local households or in suburban areas, which is hard to detect," he says.
State budget loses VND4.36 tril. on car import drop
A 51% decline in import value of completely built-up (CBU) cars has brought a total revenue loss of VND4.36 trillion to the State budget in the first four months of the year, said a report announced by the Ministry of Finance.
According to the report on the State budget revenue and spending in April and the first four months of 2012, the revenue gained from export-import balance dropped by a considerable VND1.3 trillion in Jan-Apr. This is ascribed to the poor growth in export-import turnover and the change in import structure, in which items with high import tax rates sharply decreased year-on-year.
In particular, as of the end of the first quarter, the value of imported CBU cars has tumbled by 51%, causing a loss of VND4.36 trillion to the State budget revenue. Similarly, import values of CBU motorbikes and motorbike parts dipped 42% and 16% respectively, thus the budget revenue suffered respective losses of VND336 billion and VND110 billion.
Furthermore, domestic auto production and trading also brought a hefty loss to the central budget revenue.
According to the finance ministry, the State budget revenue in April as well as Jan-Apr period was mostly contributed by domestic sources. By April-end, the total State budget revenue hit VND234.39 trillion, or 31.7% of the estimate.
Domestic revenue amounted to VND152.81 trillion, 30.9% of the estimate, rising 2.1% year-on-year. In April alone, domestic revenue increased VND6.51 trillion against March, and revenue from production and business activities surged by VND5.4 trillion.
Meanwhile, the total State budget spending in April is estimated at VND67.3 trillion, taking spending in the four months to some VND264 trillion, equal to 29.2% of the estimate, picking up 7.1% over the same period last year.
Garment exports rise 14% in first four months
Garments and textiles remained amongst the 10 biggest Vietnamese exports, reaching more than US$3.7 billion in the first four months, a year-on-year increase of 14.4 per cent, reported the General Statistics Office (GSO).
A report from the Viet Nam Textile and Apparel Association (Vitas) said that in this four-month period, garment and textile exports to South Korea increased by 50 per cent, to the US by 15 per cent, the EU by 3 per cent and by more than 30 per cent to Japan.
From February to April, exports added about $90-96 million to the industry's revenue each month.
Vitas said the growth in garment and textile exports were not from domestic companies, but those with foreign direct investment.
Vitas General Secretary Dang Phuong Dung said that foreign-invested companies maintained large orders via their parent companies located overseas.
Moreover, Dung added that many small companies had declared bankruptcy with their ex-employees scooped up by foreign-invested firms.
Vitas said that foreign-invested companies currently accounted for about 25 per cent of the domestic industry, their exports making up as much as 65 per cent of total turnover.
Dung affirmed that Vitas members recently received orders for the second quarter, but that difficulties remained due to high input costs and unchanged prices.
Currently, Vietnamese garment companies are trying to expand their presence in mainland China, South Korea, Angola, New Zealand, India and Russia while making efforts to find new markets.
This year, the industry aims to earn more than $15 billion from exports.
To reach this goal, the Ministry of Industry and Trade advised companies to lower their dependence on outsourcing orders.
Companies should buy raw materials, design, and develop products by themselves, it urged.
Big steelmakers exploit market
Large steel makers are trying to grab market share from small and medium players who are cutting down production due to the downturn in the industry.
Pomina Steel Company, a major construction-steel manufacturer with nearly 14 per cent of the market, hopes to increase sales in both volume and value terms.
It did not specify how much it plans to sell this year, merely announcing that it would increase sales by 20 per cent to VND14.4 trillion (US$685.7 million).
It hopes to achieve this by setting up more sales outlets in the north.
Dau Tu (Vietnam Investment Review) newspaper quoted a company spokesperson as saying that though it only began selling in that region last year, it already has a 5 per cent market share.
Other major steel firms with strong brands and advanced technologies are also planning to expand.
The Hoa Sen Group was busy trying to expand market share last year though the industry was struggling, managing to increase its share of the sheet-metal market by 3.5 per cent to 37 per cent.
It is the largest company in the segment.
Overall, it has increased its market share to 13.9 per cent last quarter from 13.3 per cent at the end of last year.
The Viet Nam Steel Association reported that steel sales in the first quarter were a million tonnes, or 12 per cent lower than a year earlier.
Pham Chi Cuong, head of the association, said the industry's growth target of 4 per cent this year could be hard to achieve if sales do not pick up soon.
Falling export activity hits logistics firms
Logistics contracts have decreased significantly in the wake of a sharp fall of import-export orders, industry insiders said.
Pham Quang Thang, a senior executive of FedEx, an express forwarding firm, told Thoi Bao Kinh Te Sai Gon (Saigon Economic Times) that the number of logistic orders had been on the decrease; a drop of 30-40 per cent was seen from garment companies – the biggest client of FedEx. The air transport company mainly carries samples of products foreign companies outsource to Vietnamese companies.
Thang said that his company's turnover kept growing, but the rising rate had clearly slowed down, a common problem of nearly all express forwarding firms. He estimated that the growth of the business had currently decreased to 10-20 per cent from the rate of 30-40 per cent of the previous years.
Bui Anh Duc, a senior executive of Bee Logistics in HCM City, also said that his company order numbers in the first four months of the year was reduced by roughly 30-40 per cent against the same period last year. The decrease was seen not only in the contracts to serve exports, but imports as well.
Duc explained that besides facing market difficulties in the wake of the global economic slowdown, his clients had also faced financial problems. Therefore, they were not making products to export at this moment.
Besides concerns about the sharp fall of orders, logistics firms are also worried about a further increase of freight charges announced by shipping firms. The shipping fees to Europe this year have increased by 100 per cent against last year. Increases in price to the US and China were 50 per cent and 300 per cent, respectively. Shipping fees account for the biggest proportion of door-to-door logistics services. Therefore, the shipping fee increases will certainly influence the logistics firms' service fees.
Meanwhile, Duc said that logistics firms, especially domestic ones, had to compete fiercely with each other to survive. Therefore, some firms would accept modest fee increases to share the difficulties with clients.
Saigon Hi-Tech Park to build R&D facilities
The second phase of construction of the HCM City-based Saigon High-Tech Park will expand the park by 613ha to include high-tech manufacturing, research and development, and business-incubation areas. The latest phase will cost around US$300 million.
Thousands of enterprises suffer in Ha Noi
Difficulties in the aftermath of a global economic recession have caused more than 5,300 enterprises in Ha Noi to close this year, according to the capital city's Taxation Department.
It is reported that the figure has increased to 87 per cent compared with that of the 2011 quarter average. Enterprises have stopped business or dissolved due to back stock of inventory, lack of funding and low business and production.
A department representative said the number of newly-established enterprises was more than 3,250 in the first quarter of this year, up 3 per cent compared with the last quarter of 2011.
This number of new enterprises was low compared to that of previous years; meanwhile the number of dissolved enterprises was higher, affecting the city's budget.
In the first four months, the city's budget reached over VND52 trillion, equal to 35.6 per cent compared with its estimates. Nearly 1,420 enterprises reduced their tax payments by VND3,540 billion, of which 265 enterprises cut more than VND1billion.
Some districts such as Cau Giay, Chuong My and Quoc Oai received only 30 per cent of the taxes compared with the same period last year. The reason was reported that local enterprises were dealing with many difficulties such as bank interest and the increasing price of materials while down purchasing.
Deputy Chairman of Ha Noi People's Committee Nguyen Huy Tuong said because the Government decided to carry out the VND29 trillion financial solution packages to support enterprises and the market, the city needs to take prompt action to help the enterprises overcome their difficulties.
In the remaining eight months, Tuong said Ha Noi would set out six solutions to complete the assigned budget and finance tasks.
Of these, the city will ask tax and customs offices to implement the preferential solutions on taxes and fees such as extending a deadline for payments of value-added taxes and enterprise income taxes from 2011.
At the same time, the city will push up reforms on administrative procedures and create favourable conditions for enterprises, said Tuong.
Major new steel plant begins production
Thanh Hoa Steel and Iron Joint Stock Co has produced its first products at its steelworks in the central province of Thanh Hoa. Commenced in 2005, the VND352 billion (US$16.7 million) facility has a designed capacity of 120,000 tonnes per year. Thanh Hoa Steel general director Vu Tien Dung said over VND1 trillion ($47 million) was spent on technology and equipment alone. Once fully operational, the plant will produce over 50,000 tonnes of iron bar per year.
Ha Noi to host hi-tech fair next month
International Techmart Viet Nam 2012 will take place in the capital city on June 20-23 with the participation of 600 domestic and foreign enterprises, the event's organisers announced yesterday. The annual technology fair, the largest of its kind to date, is expected to foster technology transfer between local and international firms and make an effective contribution to development of the nation's technology sector. Several seminars on innovation and clean and renewable energies, as well technology used in agriculture, are planned on the sidelines of the event.
Guidelines for mortgage registration of planes, ships
The Ministry of Justice and Ministry of Transport issued Joint Circular No 02/2012/TT-BTP-BGTVT on March 30, providing anticipated guidelines for mortgage registration of aircrafts and ships. Under existing Decree No 83/2010/ND-CP on security interests, the registration of mortgages of aircraft and ships is compulsory. Circular No 02 provides registration procedures related to the mortgages of aircraft and ships to their respective administrative authorities, the Civil Aviation Administration of Viet Nam and the Ship Registration Office of Viet Nam.
Registrations shall be effective when the substance of registration is entered into the Aircraft Recorded Book of Viet Nam or Ships Register Book of Viet Nam . Given the importance of determining the priority of security interests, there may be significant risks in cases of any delay in submitting data to the registries.
Circular No 02 takes effect on May 15.
New rules on disclosure of information by listed firms
The Ministry of Finance issued Circular No 52/2012/TT-BTC on April 5, providing guidance on disclosure of information on the securities market. Under the decree, disclosures must be complete, accurate, prompt and in accordance with the law. They must be made by the legal representative of the company or by an authorised person, at the same time as a report is sent to the State Securities Commission and the stock exchange. Authorised persons, e.g., securities companies and fund management companies, must register with the commission and the stock exchange. The circular takes effect on June 1 and replaces Circular No 09/2010/TT-BTC of April 2010.

Six classes of food products exempted from inspections
The Government issued Decree No.32/2012/ND-CP on April 25, containing regulatory provisions pursuant to the Law on Food Safety. Decree 32 lists six classes of food items exempt from import inspections: (1) foods brought along for personal consumption and within the cap of existing import tax exemptions, (2) foods packaged in diplomatic and consular packages, (3) foods in transit or transhipment, (4) foods deposited at a bonded warehouse, (5) experimental or research samples, and (6) food products to be displayed at a fair or exposition.
Labeling of food products is also governed by Decree 32. Information on the label must be bona fide, accurate, apparent, and not causing confusion to consumers. The name of the product must be in a large-sized font at least three times larger than other fonts displayed on the label.
The decree also addresses expiry dates on food products. Functional, supplemental foods shall be marked with an "expiration date" or "use by [date]", while other products may be marked with a "best before [date]". Products in the first category cannot be introduced on the market after the expiry or use-by date. However, best-before products may be sold after such date if safety is demonstrated to competent authorities and products are relabelled with an expiration or use-by date.
The new decree takes effect on June 11.
Rules to ease foreign investment in market
A number of changes are expected to attract foreign investment into the Vietnamese stock market, under a new regulation being drafted by the State Securities Commission.
One of the hindrances to foreign investors has been the ability to obtain judicial status, an application process that normally takes around three to six months to complete. The commission's draft circular would require foreign investors to submit copies of a valid passport or other identification instead of a completed judicial profile when applying for a transaction code with the Viet Nam Securities Depository.
In addition, only papers issued by the competent agencies in the country of origin will need to be legalised under the laws of Viet Nam, with documents prepared by the foreign investors themselves only requiring notarisation in accordance with their own national laws. These papers would not be required to be translated into Vietnamese.
Processing time for the whole process would be reduced to five days, and the depository centre may even issue code numbers on a temporary basis to investors who cannot immediately provide sufficient documents. Such codes would be valid for six months.
Securities analysts expected the new rules would help foreign investors avoid losing opportunities on the Vietnamese market and help boost foreign investment into the nation's still-infant market.
The proposed rules would also broaden the concept of foreign investors to include closed-end funds, fund members, and investment companies in which foreign investors hold over 49 per cent of equity.
"The extended concept of foreign investors will considerably support the stock market in the effort to attract foreign capital," a source from the commission told the newspaper Dau tu chung khoan (Securities Investment).
Residential land prices slide 20% in Q1
Residential land prices in the outskirts of Ha Noi have fallen by a further 20 per cent in the first quarter of the year against the same period in 2011, Savills Viet Nam said.
About 40,000 villas and houses have been on sale through agents in the secondary land market, Savills Viet Nam reported. Of those, 27,300 villas and houses are on sale in the form of upfront payment, while the remaining 12,700 units are being sold in the form of phase-in capital contribution contracts.
"Many of the unsold units, which have dropped in price by between VND33 million and VND45 million per square metre, are in very good locations in Zone 2 such as Ha Dong, Hoai Duc, Me Linh, Dan Phuong and Quoc Oai," Savilles added.
According to a Savills' survey, the most expensive land prices are in Cau Giay, Tay Ho and Tu Liem districts, where the ceiling price is VND120 million per square metre (about US$5,700 per square metre), while the lowest price of VND40 million (about $1,900/square metre) is in Hoai Duc and Dan Phuong districts.
Banks to postpone fees on internal ATM transactions   
Members of Vietnam Bank Card Association have decided not to collect internal ATM transaction fees this year.
The agreement was reached at the association's regular conference.
The task of collecting these fees and their level will ultimately be set by the State Bank of Vietnam. It will take into consideration expenditure on ATM installations and maintenance to decide a reasonable fee.
Concerns were raised when Vietcombank said it would collect a monthly fee of VND3,300 (USD0.16) for account management and another VND3,300 fee for internal account transfers. The decision received approval from many members of Vietnam Bank Card Association. The banks said they are suffering losses from ATM and these fees were to maintain the machines and business.
However, former head of a bank's trading division said that with 40 million ATM cards issued, the bank earned about VND2 trillion (USD96 million) from VND50,000 (USD2.4) issuing fees.
Not only that, the bank also earned a huge amount from many other ATM services such as charging VND3,300 for the use of another bank's ATM, a balance inquiry fee of VND550-1,650 (USD0.3-0.8), and VND5,000-20,000 (USD2.4-1.0) for releasing cards that have been swallowed by the machine. Some banks collect VND10,000 (USD4.8) fee for reissued lost or stolen cards.
However the biggest saving the banks make via ATMs is on staff wages and branch set up costs, which are entirely avoided through the provision of ATM services.
Government to bail out domestic businesses    
The Ministry of Finance (MoF) announced five bailout packages including tax breaks and VAT moratoriums in order to support enterprises in overcoming economic difficulties.  
The MoF said that in early 2012, over 18,700 new businesses had been established, down 10.2% on the same period last year. Moreover, the number of dissolved and bankrupted companies is reported to have reached 10,350, of which 23.1% of the companies had existed for only one year and 41.9% for two years.
Those enterprises seeking licensing to operate in mining, real estate, banking and finance greatly reduced in number.
In the first quarter of 2012, revenue on goods and services dropped 7% compared to last year, the financial index declined while the cost of borrowing increased.
In order to help the enterprises and economy, five measures were agreed including management policies on the macro-economy, public expenditure, taxes and fees, prices and subsidies and tax administrative procedures.
MoF also proposed to provide an additional VND1 trillion (USD48 million) for dikes and infrastructure in rural areas.
The MoF will introduce a six-month VAT moratorium. This package will be applied to taxes due in April, May and June 2012. Land use fees will also be reduced by 50% and the deadline to pay fee extend by 12 months to enterprises in difficulties.
Corporation income tax collection will be reduced by 30% and the deadline will be extended for taxes due in the last nine months of 2011. The sectors to benefit from the measure include steel, cement, mechanical material manufacturers and waterway transport. Households focused on aquaculture or salt processing will be exempt from licensing taxes.
The ministry has also pushed back the introduction of a road maintenance fee payable by drivers to the end of 2012.
Landlords who rent rooms to workers, students or for use as private  kindergarten classes will be exempt from VAT and income tax, on the condition that prices remain reasonable.
MoF said that the packages have to follow international rules and give support to those enterprises most in need. Combined with other fiscal policies, the move aims to lower interest rates and create favourable conditions for enterprises.