VietNamNet Bridge – South Korean businessmen have been successfully penetrating Vietnam's market through the cultural channel. After watching South Korean films, Vietnamese consumers became familiar with South Korean products. This is a typical example of the close connection between business and art, said Phan Cam Thuong, an art critic.

Academic art in Vietnam needs support from businessmen
Businessmen, please support culture development, but don't interfere
Cultural development support should be set as a criterion to rank businesses 
Why Vietnamese businessmen remain indifferent to Vietnamese arts?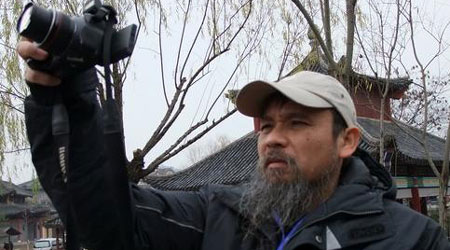 VietNamNet, in an effort to present a multi-angled view on the hot issue namely, the support of Vietnamese businessmen for the development of Vietnam's art scene, talked with the art critic Phan Cam Thuong after it conducted interviews with many well known figures, artist Tran Luong, MA of Culture Nguyen Dinh Thanh and Associate Professor Nguyen Van Huy.

You have spent many years on researching art. What are your comments about the way Vietnamese people, especially businessmen, enjoy art?

Under the feudal system, businessmen belonged to the fourth social stratum. Though they were rich, they were not respected in the society. The businessmen also enjoyed arts, but they mainly collected ornamental trees and antiques, i.e. artworks that also have practical use. they were not familiar with purely artistic works such as paintings or sculptures.

Under the French domination, a few Vietnamese businessmen collected the paintings of the Indochina Arts School. Duc Minh - a well known name - owned a very valuable collection. However, after 1954, businessmen are no longer familiar with arts. They tend to buy and display tea chests, antiques, but they do not appreciate art.

It seems that businesses nowadays only pay attention to funding popular events, such as sports, fashion shows or beauty contests, while they pay less attention to real art, especially the academic art projects. It is always difficult to find sponsors for the projects with high art value What do you think about this?
It is understandable. Sports, music and song performance shows always have been televised, and therefore, sponsoring them helps promoting the images of businesses. But it is very difficult to find sponsors for literature publications and art exhibitions.

The project on Porcelain Way along Red River is a typical example. When the name of the company was boldly displayed, this was criticized. The company should understand that benefits from art sponsorship comes later, and they should not expect that their name will be highlighted on the project. Culture is the best tool to preserve assets for businessmen.

It is clear that non-profit cultural support funds play a very important role in culture development. However, it seems that there is no Vietnamese fund available but only foreign ones. What are the reasons behind this?
I heard that the Ministry of Culture, Sports and Tourism has a cultural fund, but its scale is modest. There are not many such funds in Vietnam.

In fact, every literature or art association get financial support. However, the way of allocating the money is not good, and it does not go to the ones who need support the most.

Foreign non-profit organizations regularly operate under the mode of non-government organizations, and companies and individuals make contribution to support art and culture. In Vietnam, it is easy to call for people to donate to flood stricken areas, but it is difficult to get their support for art. Sometimes, artists are considered to be rich people without much contribution to society.

This shows that the role of art and culture in Vietnam remains modest. Raising people's intellectual standards and their spiritual demands is a good means of paving the way for cultural funds to be set up.

But the most important thing is not the establishment of the funds, but the mechanism for the funds to operate. There are funds, but they still cannot reach to the real artists.

Do you think that businessmen nowadays are too busy making money, and therefore pay less attention to cultural values?

As you may know, South Korean businessmen have been successfully penetrating Vietnam's market through cultural channels. After watching South Korean films, Vietnamese consumers become familiar with South Korean products.

A South Korean is planning to support a big arts exhibition by the Vietnam Arts Museum and the HCM City Arts Museum. There is a link between the economic benefit and funding arts.

If a business director also has an artistic soul, the company will surely prosper with high standards of corporate governance

Tran Thong