The central State Bank of Vietnam predicted this year's overseas remittances would likely reach US$8.5 billion, higher than the record of US$8 billion last year.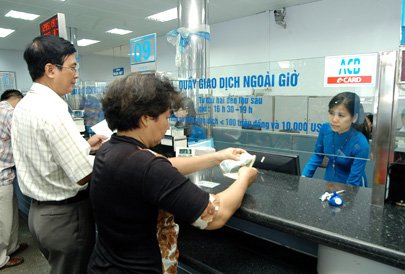 Particularly, the remittances to Vietnam totaled some US$2.5 billion in the first quarter, some US$2 billion in the second and US$2.5 billion in the third.
Overseas remittances are considered a "golden account" for international balance of payments. There are currently over 400,000 Vietnamese laborers working abroad and some four million Vietnamese residing in other nations and territories, according to the Vietnam Institute of Social Sciences.
All of them contribute to a big remittance amount sent to Vietnam every year.
Overseas remittances accounted for 4.2% of Vietnam's gross domestic product (GDP) in 1999, then rising to 7.8% in 2002, and some 7.7% in 2010 when GDP surged to over US$100 billion.
While other sources like ODA, FDI, and FII contribute inconsistently to the balance of payments, overseas remittances have a steady and strong growth. The central bank said this source of foreign currency made up for a half of trade deficit in 2010.
According to the World Bank, Vietnam ranked 16th among the countries receiving the most remittances in 2010 and ranked second in Southeast Asia after the Philippines.
The figure does not include items and cash sent to Vietnam via channels other than banks. This amount of remittances equals to at least 30% of the official overseas remittances, according to the Vietnamese central bank.
In some provinces with big numbers of laborers working abroad, overseas remittances are equivalent to total revenue of the locality, according to the World Bank's statistics. The bank predicted overseas remittances will continue to rise in the coming years.
Despite the apparel benefits for the national economy from overseas remittances, there could be some negative side-effects from the huge amount.
A banker told the Daily that a big amount of overseas remittances has been sold at the unofficial market where forex rates are higher than at banks. This source of foreign currency put more pressure on the forex rates and market management.
SGT