After the Government approved Hanoi's master plan by 2030 and a vision towards 2050 in July, many experts in the property sector have regarded it as an important legal foundation for investors to effectively exploit potential and make a transparent development plan in the capital.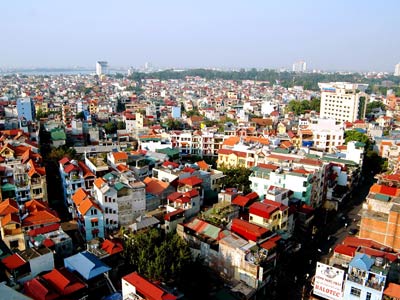 Speaking at a seminar in Hanoi a fortnight ago, Tran Ngoc Chinh, chairman of the Vietnam Urban Planning Association, said the master plan will have a positive impact on property projects. This is a foundation for enterprises to select and focus on projects with appropriate scales and locations, Chinh said.
After the master plan has been approved, local government will continue to revise planning to develop satellite urban areas and industrial parks, giving a boost to the property market not only in Hanoi but also in neighboring provinces and cities.
Duong Duc Tuan, deputy director of Hanoi's Architecture and Planning Department, says that Hanoi has plans to develop 30 projects for urban areas and districts, 30 projects for smaller sections in the city and 60 other projects for detailed and distinctive planning.
A recent survey shows that investors are seeking condos priced from VND2.5 billion and below, located not too far from the city center and having good infrastructure connection. They are also interested in small land lots in residential areas to build homes.
However, Vu Xuan Thien, deputy head of the housing and property management department under the Ministry of Construction, says the market still has modest supply. Only 30% of 85 million square meters of housing space in the city are commercial products while residents build the rest. From a population perspective after Hanoi's administrative boundaries extension and goods mechanism, housing demand remains very high in Hanoi.
Property prices soared sharply in the city between 2009 and 2010 with condo prices shooting up 40-50%. The prices then have decreased significantly given the gloomy market but are still higher than in 2010.
Thien says the dreary situation is just temporary before the market can adjust its mechanism, goods ratio and prices.
Chinh says the Government has opened numerous meetings to make suggestions for a better real estate market. "In my opinion, the realty market will recover from now to the end of this year. The main point is how to invest in real estate," Chinh says.
Aside from the high housing demand and lower lending rates, positive signs from macro policies will also contribute to the recovery. According to some real estate exchange centers, successful transactions have increased by 20% in a number of segments. Investors are interested in not only the city center but also outlying districts like Long Bien, Dong An, Tu Liem and Thanh Xuan.
Local experts, however, say the sustainability of the recovery primarily depends on consumer psychology. To prevent risks, Chinh advises investors to stay calm, follow the planning and scale of realty projects and consider their financial capability.
VIR